As 2017 draws to a close, the time to looking ahead to next year is upon us. One of the most exciting technologies to discuss going into 2018 is software-defined wide-area networks (SD-WAN) as we look forward to seeing what these evolving technologies become capable of over the coming year.
With this in mind, we've put together a list of eight SD-WAN trends to look out for in 2018. As industries across the globe are beginning to adopt and apply SD-WAN technologies to their operations, we look at some of the things being expected from SD-WAN over the next 12 months.
1. Continued Disruption
As more and more businesses and organizations begin to gradually shift their operations either to the cloud or from traditional networks that can no longer meet the demands of 21st century digital business, disruption to both business and network operations looks likely to continue long into 2018. Alongside this, Vendors will continue to grow and acquire smaller enterprises which could mean enhanced interoperability in the long run, but might also mean end-users find it difficult to keep up short term.
2. Increased Complexity
With the number of IoT devices within a branch on the increase, and the amount of data those devices are capable of collecting increasing too, network functions are having to be specifically designed, virtualized, or automated in order for traditional networks to keep up. According to Kiran Ghodgaonkar of Cisco, WAN complexity is becoming an increasingly important issue in IT as "Branches contain multiple devices, this means IT has to make changes to each device separately and in most cases manually resulting in IT being slow and prone to errors." This also leads us quite nicely on to our next trend.
3. The Rise of Managed Services
The number of managed services offered will increase as more and more service providers begin to produce various different kinds of managed SD-WAN products. According to Lee Doyle of Doyle Research, "SD-WAN technology has advanced over the last year to improve its managed service offerings, including support for multi-tenancy and better centralized management." Doyle, and other industry experts, also expect that, "In the future, SD-WAN technology will include the ability to federate managed services across service providers, thereby enabling global partnerships." Global partnerships between service providers could also help to make great advances in other areas such as interoperability.
4. Cloud Migration as a Driving Force
The number of businesses and organizations making use of cloud-based services has begun to grow as access to cheaper cloud services and alternative methods such as SaaS (Software as a Service) have become more popular. According to Jim Duffy of 451 Research, one of the biggest driving forces behind SD-WAN is the cloud, with expectations looking at 60+% of all workload running in some form of public or private cloud within two years. However, further research by 451 Research also shows that 38.4% of participants stated that their business would primarily be looking at single cloud environments, not multiple clouds.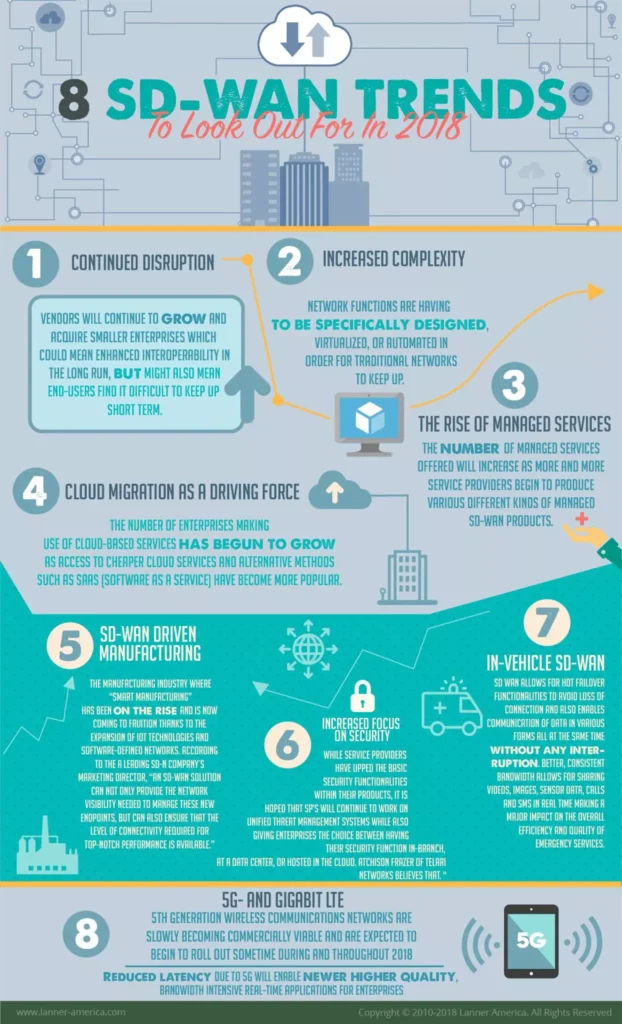 5. SD-WAN Driven Smart Manufacturing
In the age of the Internet of Things, more and more industries are in need of agile and robust networks backed by application-aware SD WAN solutions. Nowhere is this truer than within the manufacturing industry where "smart manufacturing" has been on the rise and is now coming into fruition thanks to the expansion of IoT technologies and software-defined networks. According to Neil Abogado, Product Marketing Director at Talari, "An SD-WAN solution can not only provide the network visibility needed to manage these new endpoints, but can also ensure that the level of connectivity required for top-notch performance is available. SD-WAN systems allow manufacturers' IT teams to create unique policies to govern their network traffic, including what types of data packets to prioritize. With an SD-WAN in place, manufacturers are able to take advantage of all the benefits the IoT can bring."
6. Increased Focus on Security
With cyber security becoming an ever-greater issue across the board in nearly every industry on the planet. While service providers (SP's) have upped the basic security functionalities within their products, it is hoped that SP's will continue to work on unified threat management systems while also giving businesses and organizations the choice between having their security function in-branch, at a data center, or hosted in the cloud. Atchison Frazer of Talari Networks believes that. "As SD-WANs become central to the support of cloud and IoT applications, expect security integrations to be important differentiators between specific SD-WAN solutions. A failsafe SD-WAN paired with a cloud security platform makes it easier to secure cloud traffic and meet QoE expectations."
7. In-Vehicle SD-WAN
Extending network capabilities to vehicles has immense potential for the public safety sector and specifically the emergency services First Responders. Some of the biggest obstacles that field workforce face while performing their public safety duties are intermittent connectivity, fluctuating bandwidth, network session persistence, issues with signal strength and overall quality-of-service (QoS). Legacy communication technologies have several disadvantages when you look at the potential of using in-vehicle SD-WAN in emergency vehicles. SD-WAN allows for hot failover functionalities to avoid loss of connection and also enables communication of critical situational awareness data in various forms all at the same time without any interruption. Consistency and increase in bandwidth allows for sharing videos, images, sensor data, calls and SMS in real time making a major impact on the overall efficiency and quality of emergency services.
FirstNet is building a countrywide dedicated LTE network (Band 14) in the United States that will be used exclusively for Public Safety communication. However, this Public Safety communication network is required to have the flexibility to switch between commercial LTE and Band 14 as needed, depending upon the location. Vehicle SD-WAN Routers built for First Responder vehicles are going to be equipped with the purpose-built LTE modules to enable the support for this type of redundancy and create a failsafe network between vehicles, PSAP's and the public.
8. 5G and Gigabit LTE
Fifth generation wireless communications networks are slowly becoming commercially viable and are expected to begin to roll out sometime during and throughout 2018. Daniel Conde of Enterprise Strategy Group explains his thoughts on 5G, LTE, and the future of SD-WAN; "the key issue is to understand what additional capabilities at remote branches may be enabled. It's not just a matter of data rates, which of course will increase under 5G, but to understand how reduced latency will enable higher quality real-time applications, such as IP-based video teleconferencing. I would not be surprised if vendors incorporate LTE and future wireless technologies into their SD-WAN solutions, and I firmly believe that branch networking will undergo rapid changes in the coming years."