Open RAN Servers for 5G Edge Infrastructure
The quick forthcoming of 5G is making Mobile Network Operators (MNO) turn to cloud and virtualization. Such technologies help make their Radio Area Networks (RANs) centralized, run with virtualized functions and use Commercial-Off-The-Shelf (COTS) hardware. But, with projects like Open RAN Alliance, the virtual RAN (vRAN) or cloud RAN (cRAN) goes to the next level: it becomes fully disaggregated.
With architectures like Open RAN, the 5G RAN becomes fully programmable, open, and disaggregated. Such features provide MNOs with numerous benefits, including lower TCO (Total Cost of Ownership), decreased CAPEX and OPEX, new revenue opportunities, and a diverse supplier ecosystem.
Why Open RAN for 5G? The New Radio Design.
Traditionally, with vRAN, the Radio Units (RUs), Central Unit (CU) and Distributed Unit (DU) are closed (proprietary)— they usually belong to the same network vendor.
As a solution, Open RAN introduces the functional split. The functional split came with the 5G New Radio (NR) to help disaggregate the BBU (Base Band Unit). The Open RAN architecture breaks the BBU into units O-CU and O-DU. With the functional split, different Virtual Network Functions (VNF) can be placed in multiple places across the signaling path. The O-CU and O-DU functions may run as virtual instances (VNFs) deployed on the standard COTS hardware.
The separation of networking servers into functional components allows each component to be deployed independently.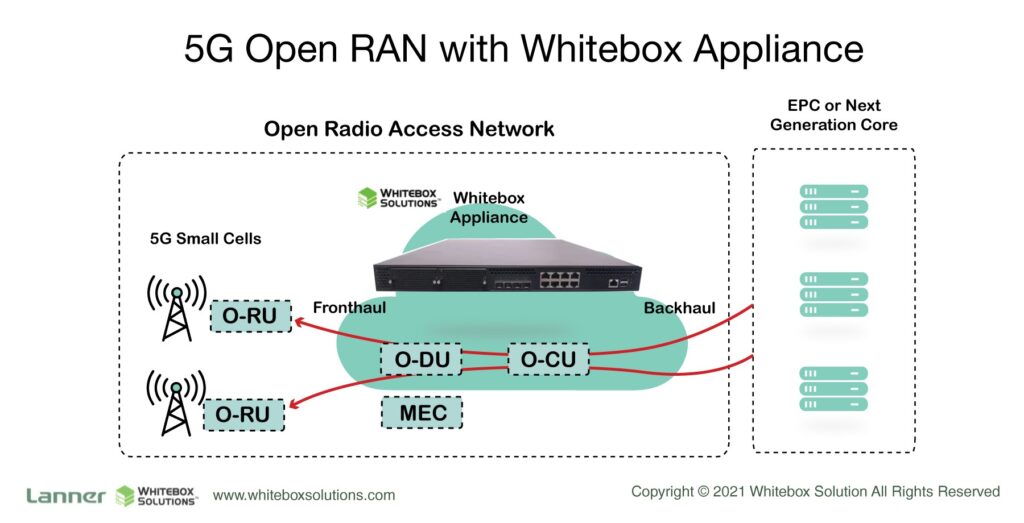 Traditional RANs are generally locked-in with one or two vendors— the conventional monolithic architecture. But Open RAN's hardware/software vendor-neutral technology, opens the door for new vendors and suppliers. It is based on community-created standards, open interfaces, and COTS hardware (whitebox solutions for 5G), which helps create a new diverse, and more competitive ecosystem.
With this disaggregation, network engineers can decide which unit (regardless of vendor) should control which operation. They can mix and match the 5G RAN components from different vendors, avoiding lock-ins.
Requirements of the whitebox Open RAN solution for 5G.
The Open RAN Alliance encourages the use of COTS white boxes to help reduce the cost of 5G. Since O-RAN is hardware and software vendor-agnostic, operators have the flexibility and agility to change strategies and equipment.
Below are a few requirements for whitebox equipment on 5G infrastructure.
Optical Fiber Interconnectivity: Although microwave and copper transportation media are often used for voice, video, and data as a more cost-efficient solution, no medium compares to fiber when it comes to capacity. The optical fiber is the optimal medium for RAN's front haul and backhaul traffic.
Appliances with front access I/O Ports and short-depth design: Telecom racks are usually standardized and limited to specific measurements. Network appliances must adapt to the depth of racks in cabinets. In addition, access to the backside of a server is limited due to the cabinets, so front access I/O ports are a vital feature.
High Availability and Redundancy: Servers deployed in remote sites need to be fully operational, reliable, and durable 24×7. They require a redundant power supply and fan design to ensure high availability and redundancy.
Dual BIOS: When a problem arises, a dual BIOS approach (primary and backup) helps mitigate the single-point-of-failure of BIOS. With dual BIOS, if the system reboots, it restarts automatically without human intervention or oversight.
Network-Based Time Delivery for 5G: Delivery time accuracy in 5G with an appliance that supports the IEEE 1588v2 Precise Time Protocol (PTP). The PTP ensures technologies such as 5G are synchronized with high precision and accuracy.
QAT (Quick Assist Technology). An appliance with native support for QAT should be capable of off-loading crypto packets in 5G networks. An edge server with QAT will optimize the network performance in VPN networks.
Whitebox solutions: 5G edge servers for Open RAN
Whitebox Solution provides 5G edge servers ranging in capabilities. These servers give network operators an expanded choice of high-performance white box platforms for the base stations that have been optimized for Open RAN. Such telco edge appliances will ultimately help meet the high availability, performance, and scalability that carrier-grade networks demand.
A whitebox Open RAN edge server is a right fit for today's telco's edge strategy.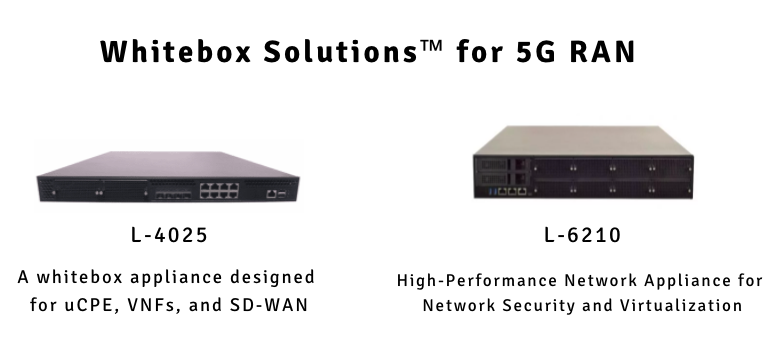 a.   L-6210:
The L-6210 is a high-performance network appliance designed for network security and virtualization. The L-6210 is a 2U x86 rackmount network appliance built on highly scalable Intel® Xeon® processors. The platform can be used for NFV/SDN, WAN optimization, SD-WAN, NGFW/UTM, DPI/IPS/IDS, Application Delivery, or MEC.
This COTS-based appliance helps realize 5G Open RAN by deploying it on the CU as a MEC (Mobile Edge Computer) or as an Open RAN appliance.​​ The server would backhaul all traffic coming from DUs to the 5G core network.
b.   L-4025:
The L-4025 is a whitebox appliance designed for uCPE, VNFs, and SD-WAN. This appliance supports robust virtualization so it can host a lot more VNFs and provides a greater degree of bandwidth than ordinary servers. The L-4025 features 8, 12, or 16-core Intel® Xeon® D-2100 processors, 8x GbE RJ45, 4x SFP+ and Intel® QuickAssist Technology (by SKU) for improved network performance.
This whitebox appliance helps realize the 5G open RAN by deploying it on the DU (Distribution Unit). The server would front haul the traffic flowing towards the RRU and connect to the CU.
The Benefits of 5G Open RAN for MNOs?
The Open RAN architecture is the optimal solution for the high operational demands of the new 5G era.
The 5G Open RAN can help MNOs innovate their network edge and generate revenue from their 5G investments by enabling technologies like Internet of Things (IoT), enhanced Mobile Broadband (eMBB), Ultra-Reliable Low Latency Communications (URLLC), immersive reality (AR or VR), or other new services that are key for next-generation mobile wireless networks.
This combination of capabilities and opportunities provides NMOs the flexibility, scalability, and interoperability they need to transform to 5G.
Next Steps…
For more information on the 5G RAN server solution, please contact a Whitebox Solution sales representative.
Photo by Jakub Pabis on Unsplash