Critical infrastructure includes essential assets, systems, and networks for society, the economy, public health, and safety.
More specifically, critical infrastructure encompasses food, water supply, transportation, energy, health, telecom services, cell towers, financial services, and more.
These crucial services must remain secure and functioning correctly at all times.  A sudden disruption in these services can lead to widespread chaos.
Also, these critical infrastructures are interrelated.
For example, a reliable communication infrastructure can help other critical infrastructures like utilities, transportation, smart city infrastructure, etc.
Through this blog, we want to explain how Lanner provides robust, scalable, and secure platforms to help the other utility infrastructure, including the communication infrastructure.
Outdoor critical infrastructure means the infrastructure is deployed outside. As it is exposed to the outside environment, the devices must be highly reliable, secure, and protected against harsh environments.
Following are some of the use cases and how robust telecom devices can help them.
Digital Substation
The efficient functioning of substation automation infrastructure requires hardware with high availability and high performance. There are many critical applications like Intelligent Human Machine Interface (HMI) for communication terminals and critical systems like SCADA that require high reliability.
Some of the requirements for communication devices used in such an environment are:
High-performance platforms with sufficient computing capacity and RAM.
Virtualization support running multiple applications on one platform, thus optimizing the hardware usage.
Extreme temperature tolerance- from -40 to 70C
Multiple PCIe expansion slots for future expansion
Support of GPU for highly intensive processing.
Compliance with IEC 61850 standard is critical for devices used in utility communication, power plants, and substation environments.
LEC-3340 from Lanner is an IE 61850-3 compliant solution powered by Intel Xeon and provides a high-performance virtualization-ready platform based on Intel VT-x. The solution is redundant with high. power, supports ECC memory, and comes with four PCI Express slots for installation of external cards such as GPU.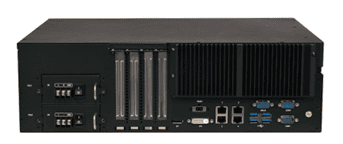 Lanner's LEC-3340
Smart Traffic Management
As cities become increasingly congested, connected IoT devices can help to manage traffic flow and reduce congestion. Intelligent streetlights, cameras, and sensors are among the most common IoT devices deployed in urban areas to monitor traffic behaviors. These devices collect data on critical factors like traffic speed, density, and direction and can alert authorities when traffic congestion occurs.
Devices designed for intelligent traffic management should have some distinguishing features, such as
A variety of connectivity supports, including 5G/4G
PoE for supporting remote power feeding
Rugged design
Compliance with IP67 for use in an outdoor environment
ISD-O370 from Lanner is an IP67 rugged device that provides 5G connectivity with PoE's support, making it highly suitable to be used in outside environments such as those for intelligent traffic management.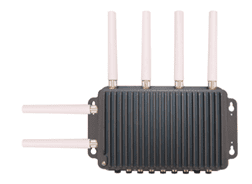 Lanner's ISD-O370
Climate Change Protection
Early warnings against climate change can protect against damage to critical infrastructure.  One use case is the detection of fire in the forest by using AI technology and timely alerting the control center. AI technology can use video analytics to detect and alert against such events.
Some of the requirements for communication devices used in such environments are
Video computational engines that can offer improved performance for video analytics
High-precision sensors and cameras
Sufficient storage capacity
Multiple PCIe slots for AI analytics cards expansion
Support of GPU
Rugged design
FX-3420 from Lanner is a high-performance, high-storage Edge AI platform in just 2RU form factors with 12 x 3.5 inches storage bays. It supports Dual 2nd Gen Intel® Xeon® high-performance Processors up to 250w and up to 24xDDR4 R-DIMM.
It is configured with an NVIDIA A30 Tensor Core GPU; the NVIDIA-Certified FX-3420 provides an AI-optimized platform that supports advanced analytics coupled with machine learning capabilities suitable for use cases such as climate change controls.

Lanner's FX-3420
Robust WAN Connectivity
Communication is a critical infrastructure for any country. Providing reliable, secure, fast, and redundant WAN connectivity is essential to connect branches with data centers.
SD-WAN is a vital technology to support robust and redundant WAN connectivity.
Some of the requirements for SD-WAN devices are
Support of Wi-fi 6 for fast indoor connectivity
Support of 4G/5G SIMs for redundant internet WAN connectivity
Encryption support for secure WAN connectivity
Open platform to add advanced security applications
Native Intel QuickAccess Technology for cryptographic acceleration
Rugged and wide temperature tolerance for devices used in outdoor applications
The NCR-1510 is a micro server made by Lanner that is designed for outdoor use as an SD-WAN uCPE gateway. It has a wide operating temperature range of -40°C to +70°C and can be installed with an electronic equipment enclosure for additional protection from inclement weather.

Lanner's NCR-1510
Lanner NCA-1516 is a versatile uCPE platform that supports secure SD-WAN applications. It can support comprehensive connectivity options, including Wi-Fi 6, 5G mmWave, and 5G Sub-6GHz. The platform accelerates hardware through QuickAssist technology and supports various vCPE/uCPE configurations.

Lanner's NCA-1516
About Lanner
Lanner is a leading manufacturer of uCPE/white box solutions for communication, including SD-WAN, SDN, NFV, Orchestration, RAN, and monitoring devices suitable for indoor and outside critical infrastructure use.
Lanner works in the US through its subsidiary Whitebox Solutions.