In today's ever-evolving technological landscape, the importance of "Scalable L-DU/CU Servers for RAN Virtualization" cannot be overstated. Open RAN principles are leading the charge toward a more flexible and cost-effective networking environment. This is especially critical in the Radio Access Network (RAN) domain where the virtualization of Distributed Units (DUs) and Centralized Units (CUs) is not just a possibility, but a necessity. Lanner stands at the forefront of this transformation, offering server solutions that are both open and scalable, perfectly aligned with the needs of RAN Virtualization.
RAN Virtualization with L-DU/CU Servers
The beauty of Open RAN principles lies in their encouragement of virtualization for both DUs and CUs. This facilitates greater flexibility and allows for vendor-neutral solutions within the RAN ecosystem. Specifically designed to meet these needs, Lanner's DU/CU servers feature front IO, short-chassis, and a wide operating temperature range. They are crafted to operate even in space-constrained environments, enabling mission-critical RAN applications especially in the realm of Private 5G networks.
A Disaggregated Approach to 5G Open RAN
Lanner has joined hands with Radisys to pioneer a high-performance, container-based 5G Open RAN solution. This solution caters to multiple industries, offering flexible deployment options to suit varied requirements. It's a cost-effective, fully disaggregated model comprising Lanner's DU/CU servers ECA-4027 and ECA-5540, along with Radisys' Open RAN Software. The end result is a platform delivering secure, real-time communication and low-latency services for mission-critical applications.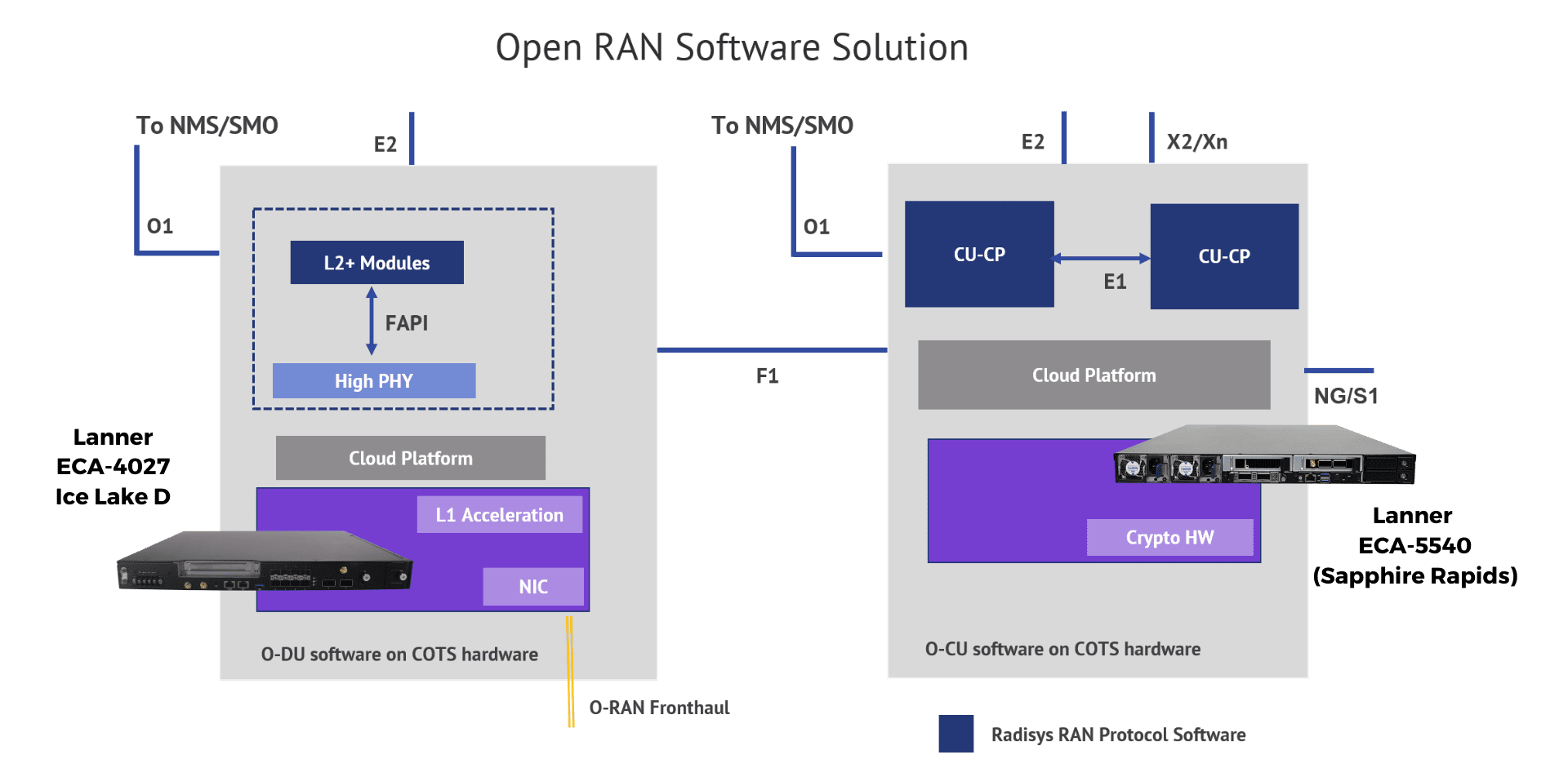 The All-In-One Bundle Solution for Private 5G in Manufacturing
Private 5G networks have been a revelation for industries like manufacturing. They ensure low-latency, high-speed connections for seamless and uninterrupted communication between Augmented Reality (AR) devices and control centers. Lanner's Open RAN appliances offer service providers an efficient way to roll out 5G private networks. These networks don't just enhance communication efficiency and reduce operational costs; they also bolster the reliability and security of these networks.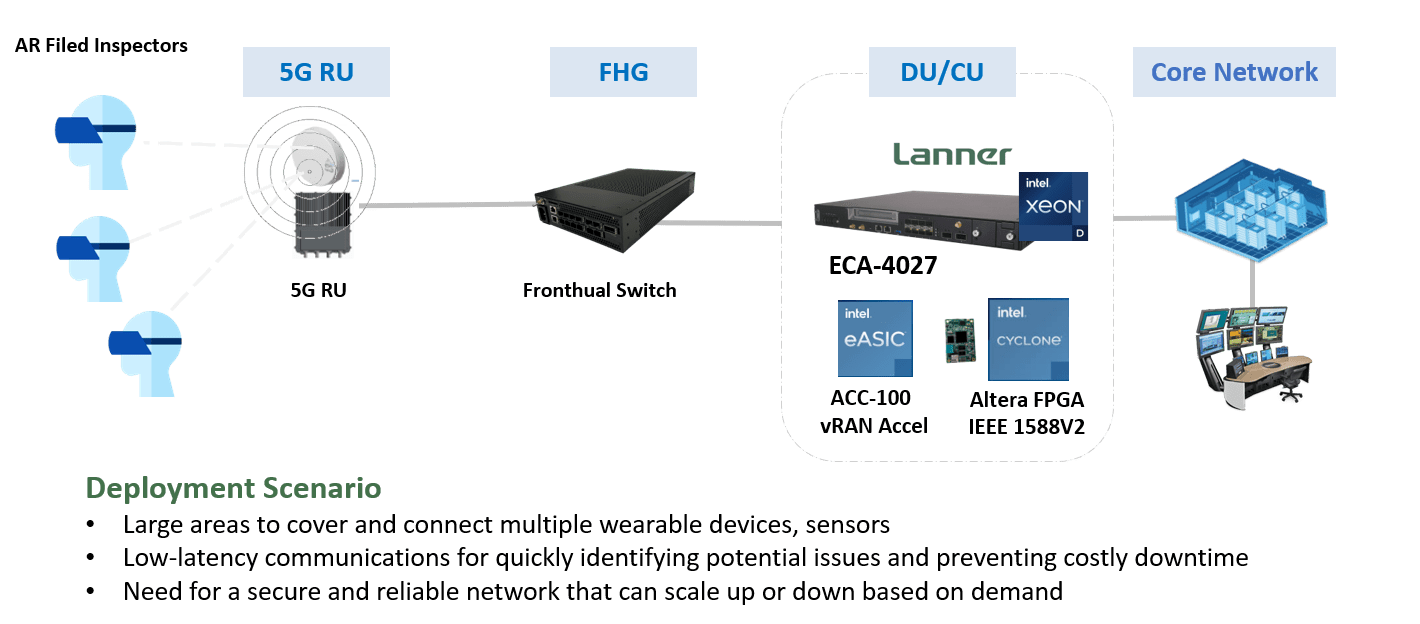 Cutting-Edge Technologies that Power L-DU/CU Servers
Intel vRAN Boost
Intel's vRAN Boost is a game-changing, software-based solution aimed at accelerating the processing of network traffic in virtualized RANs (vRANs). It empowers 5G core networks to perform more efficiently, balancing power efficiency and performance while reducing latency and increasing throughput.
In-Line Accelerators
The in-line accelerator is engineered to offload CPU tasks, thus enhancing performance and power efficiency. According to the latest benchmark tests, an in-line acceleration card can save up to 44% of CPU computing resources while consuming 17% less energy. This makes it an ideal choice for enabling Kubernetes-containerized 5G RAN applications.
The Role of IEEE 1588 Precision Time Protocol (PTP)
IEEE 1588 PTP is crucial for synchronizing clocks across a network. It is widely used for high-precision time synchronization in distributed systems that span across industrial automation, telecommunications, and financial trading systems.
Conclusion
The advent of RAN virtualization has been nothing short of revolutionary. Lanner's open and scalable DU/CU servers are custom-built to adapt to this transformative era, offering a multitude of benefits from cost-efficiency to network reliability. Whether you're an enterprise in the manufacturing sector looking to set up a private 5G network or a service provider aiming to deploy container-based 5G Open RAN solutions, Lanner's product range has something for everyone. It's not just about staying ahead in the game; it's about redefining the game itself.   Ready to redefine your networking capabilities with scalable and efficient DU/CU servers? Contact us today to discover how Lanner's cutting-edge solutions can propel your business into the future of RAN Virtualization.
Featured Products