Edge computing, 5G and the emergence of new ultra-low latency sensitive services for MEC (Multi-access Edge computing) have shifted the way telcos are perceiving their mobile networks.
They see edge clouds as a new potential to monetize their network. It also enables a new way to work with partners like application developers, over-the-top players (OTT), and telecom equipment vendors.
But to get all these benefits, telcos need to build edge data centers the right way.
And the wrong way is to build it like traditional centralized data centers. For example, adding platforms and servers can easily lead to a build-up of platforms that are both CAPEX and OPEX intensive.
So what is the right way: Build an edge data center with a smarter all-in-one and compact platform for MEC.
Here we give three reasons, why an all-in one compact MEC solution is the way to go for edge data centers
Reason 1: Limited Space and Power necessitates an all-in-one and compact MEC platform
Generally, the small edge data centers do not have the luxury of space and power.
A compact MEC solution that has integrated networking and compute functions can help here.
Compare the setup on the left side with that on the right side.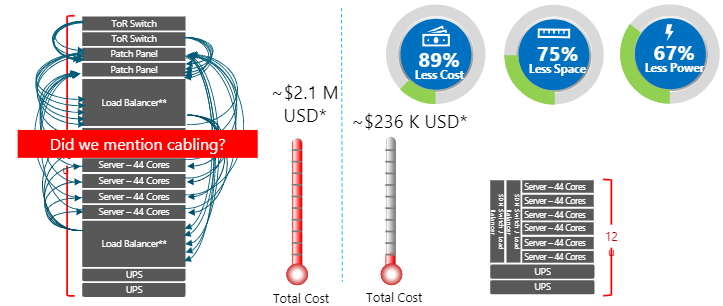 Fig: Traditional versus MEC platform (Ref: ONF Spotlight )
Building stacks of ToR switches and servers on the edge of a data center consumes space and a lot of power. Also, it needs a lot of connections and patch panels.
The setup on the right side is compact All-in-one MEC hardware and suitable for small data centers. It is an integrated MEC platform with compute and networking all in one box. It is easier to install and maintain.
The result is power and space savings, which translated to low OPEX and ultimately high cost savings.
Reason 2: Diversity of Services
Edge is a hub of very diverse services. For example:
Low latency and/or high throughput services like IoT, AR/VR, Autonomous Vehicles, Gaming, CDN in, etc
Radio Access Network (RAN) components like CU, DU
Components of 5G core network like UPF
Networking layer
Above all, running these different services in a multi-vendor and heterogeneous environment at the edge means that potential additional security risks can happen as the network surface has expanded. Therefore, necessary security functions should run at the edge as well.
To support all these functions, there is a risk that telcos can introduce multiple siloed solutions at the edge, which is not efficient and cost intensive. Instead, an all-of-one MEC platform can provide an open compact cloud to run all these multi-vendor VNFs, both as VMs as well as containers, under one orchestration system that results in cost savings.
Reason 3: Lines between compute and networking are blurring
The programmability of the networking hardware opens new and innovative opportunities for the service provider beyond the traditional networking capabilities. It opens doors for the application developers to develop new user cases.
Consequently, lines between compute nodes and network switches are blurring as networking switches become more powerful and programmable.
P4 combined with programmable ASICs makes networks do more than traditional connectivity functions.
Programmable networks today can offer rich analytics, in line telemetry ( INT) as well as offload security functions like stateful firewall from compute layer to  the networking layer.
Above all, 5G UPF, that otherwise needs to be run in the compute node can be offloaded to the networking switch thanks to P4 programmability. This use case is the initial focus of the SD-Fabric project by ONF.
Today's all-in-one MEC platform enables a tightly integrated networking and compute layer, which is possible through the use of programmable switches inside the MEC platforms.
About Lanner's All-in-One MEC platform
Lanner Electronics is a leading manufacturer of white box platforms. It provides compact white box solutions and UCPEs for different network technologies and a wide variety of applications like Open RAN, MEC, NFV, SDN, network orchestration and S-WAN.
Lanner offers HLM-1100 switch blade, a high performance, P4 programmable based on intel's Tofino chipset ( came from acquisition of Barefoot networks) for its all in one feature rich MEC platform HTCA-6600
HTCA-6600 is a highly compact, highly redundant and an open MEC platform, already integrated with diverse VNFs through its partners like Virtual Load Balancer, Virtual Firewall, Virtual BNG, Virtual PE, Virtual CG NAT, Segment routing SRV6 Service chaining, Virtual Threat Gateway, SDN controller, etc.
HTCA-E400,  is another Lanner's all-in-one  edge platform that is carrier-grade and a very compact sized  that has  3rd Gen Intel Xeon Scalable Processors (codenamed Ice lake) with built-in AI Acceleration, for 5G Open RAN and Edge cloud.