CSPs are moving to a more distributed data center architecture by establishing edge clouds closer to the users.
New low latency applications for MEC dictate this need, like: AR/VR, autonomous vehicles, remote surgery, industrial factory automation etc to name a few, that run closer to users.
However, edge clouds have unique characteristics: they are higher in density and also each edge data center usually has limited power and space.
Also, their networking needs are different and far more complex as some of these services pass through service chains that need to be managed well.
Not to forget that CSPs are continuously looking for new use cases for network edge monetization.
Can the networks help with all the above?
Therefore, we discuss in this article how networking in general and programmable networking in particular can address all of the above for the network edge.
We have listed them as top 3 benefits below:
Benefit 1: Data Plane programmability helps in Edge innovation
Well, Edge cloud is all about innovation and new use cases.
And data plane can help here.
But not the data plane we see traditionally. Which is based on the "fixed function switch" ASIC that restricts functions of switches. Their data planes are neither customizable, nor easily expandable with new features.
We mean a P4 programmable data plane possible with the new programmable switches.
With P4 programmable data plane, the user can program the data plane in new ways not possible with the traditional packet formats, thus opening the edge to new use cases like following:
In-band telemetry (INT): P4 can enable additional packet header to carry telemetry information. In one of the use cases, it can consider the network state (for example congestion) and make more dynamic decisions right in the data plane to prioritize packet based QoS without depending on the instructions from the SDN controller. This can further open more use cases like traffic engineering, dynamic forwarding based on rich analytics.
Deep Packet Inspection (DPI): With the inherent DPI functionality of P4 programmable data planes, P4 can enable stateful firewalls without the need for dedicated firewall appliances.
5G UPF offload: One of the very hot and innovative use cases is the offload of the 5G UPF functionality from the compute node into the switch itself. This can improve performance and result in a more integrated edge platform. There is already a production use case by Open networking Foundation under the initiative "SD-Fabric"
Benefit 2: Network programmability reduces edge computing complexity
Edge has become a hub of diverse services.
Among them, many of the 5G's own core components like 5G core UPF can run in edge cloud as well many of the RAN components like CU, DU that have found their way in edge data centers.
With so many services in so many locations, security risks have also increased as attackers might attack the network from many locations. This means now that security functions need to be run right at the edge to stop such intruders.\
Therefore, traffic has to hit security appliances for screening before it proceeds to an actual service function.
This dictates the use of service chaining and often these service chains are dynamic based on the state in the network
Therefore, SDN based programming can help here. It can manage these complex services from a common control plane and create dynamic and new service chains on the fly as network state changes.
Alternatively, controller-less implementation can be done by programming P4 data plane for
the service chains as a P4 data plane is stateful.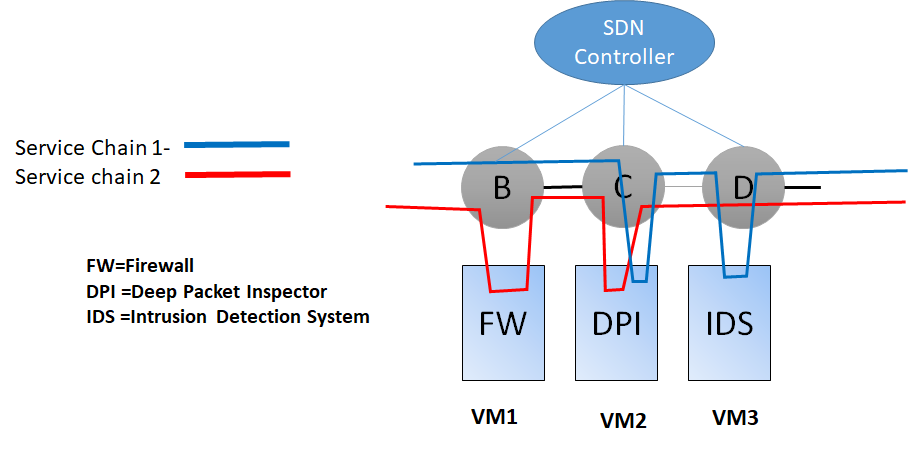 Benefit 3: Programmable white box switches help reduce edge computing costs
Last but not the least, white box has become a common denominator in programmable edge clouds.
The costs of running purpose-built security appliances ,5G core and RAN functions like CU, DU can be very costly.
P4 switch based on white box can accommodate them all and more!
White box can bring hardware and software abstraction layer that is necessary for a true programmable network.
Today white box can provide P4 programmable ASIC like Intel Tofino that can open the door for new ways to program the network and can enable new use cases and help monetize the network.
The initiatives from ONF (Open Networking Foundation) as well as O-RAN Alliance are geared towards using the white box to simplify the functions at the edge.
About Lanner's Programmable MEC/Edge White Box
Lanner Electronics is a leading manufacturer of white box and UCPE platforms for a wide variety of applications like Open RAN, MEC, NFV, SDN, network orchestration and S-WAN.
Lanner offers HLM-1100 switch blade, a high performance, P4 programmable based on intel's Tofino chipset ( came from acquisition of Barefoot networks) for its all in one feature rich MEC platform HTCA-6600