Private networks were slow to grow with LTE, but with the 5G, there is a more tremendous potential for private networks to flourish and succeed.
And there are reasons for that:
After all, 5G offers not only broadband services but also ultra-low latency services (uRLLC) and massive machine-type services (mMTC). Both of these are enablers for new services that can scale and offer a predictable quality of service (QoS), which was not possible with 4G networks.
New and enhanced services like massive IoT, augmented reality (AR), virtual reality (VR), autonomous driving, and Artificial intelligence (AI) are set to grow but also critical industrial use cases.
Take, for example, the evolution to industry 4.0. which requires the factories to evolve to intelligent automation, connected manufacturing, and digital convergence. This requires beyond connectivity also, predictability, and high security and is ready to scale. Such kind of application requirements and QoS guarantees can only be fulfilled by 5G.
But what is a private 5G cellular network? Is it partially or fully private? is it physical or virtual?
Also!
What are the different deployment models of these private wireless networks?
This blog will try to address these questions in a very simple, understandable way.
We start by defining a private 5G network, then its applications, and discuss different ways to implement private 5G networks.
 What is a private 5G network? aka "Non-public 5G network" ?
The 3GPP calls it a 5G Non-public Network (NPN) instead of a private network and defines it as follows.
"A Non-Public Network (NPN) enables deployment of 5G network for private use. An NPN can be deployed as:
A Stand-alone Non-Public Network (SNPN): Operated by an NPN operator, which is independent, i.e., it does not rely on network functions provided by a Public Land Mobile Network (PLMN), or
A Public network integrated NPN (PNI-NPN): A non-public network, which is deployed with the support of a Public Land Mobile Network (PLMN)."
5G private network applications and use cases:
It is worthwhile to discuss the applications and use cases of the 5G private network before moving with the deployment models.
Here are some of the top use cases, but there are many more vertical industries also.
1. Manufacturing
This is the most popular use case for private networks. Smart factory automation requires highly predictable performance in terms of latency and QoS, which cannot be provided by Wi-Fi which is prone to interference thus, there is a more significant potential for 5G private networks in this area.
2. Healthcare
Private networks are used to meet mission-critical needs in healthcare. This includes medical imaging, telemedicine, and remote patient monitoring.
3. Security applications
Private 5G networks can provide predictable bandwidth and low latency transport for security cameras, fingerprint scanners, or automated number plate scanners
4. Oil & Gas
Oil and natural-resource companies see an opportunity to improve efficiency across their entire supply chain — from drilling to production to refining, better automation, improved monitoring, and reduced operating costs.
Private 5G Network architecture and deployment models
To understand the different deployment models, we need to understand a high-level 5G core architecture first.
5G Core Architecture
5G Core is based on service-based architecture connecting all components so that they can talk to each other through 3GPP-defined APIs. The 5GC is shown bordered with red dots in the following diagram.
Now the 5GC components are of two types, the control plane type, and the user plane type. Almost all the core network functions of 5GC are control types except User Plane Function -UPF, which is the user plane ( shown dotted in green).
The Control plane does multiple jobs like signaling, access management, authentication, unified data management, billing, etc.  On the other hand, the job of UPF in the core network functions is to handle the forwarding of user traffic to an external data network (DN)
The closer the UPF is to the user, the better experience he will have as the packet processing latency is reduced.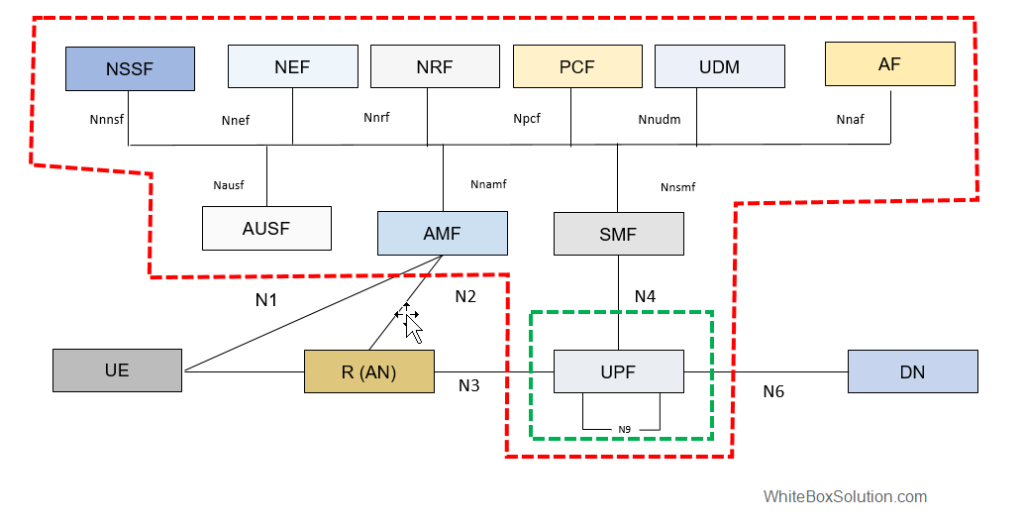 5G Private Network Architecture:
There are many deployment models for 5G private networks. The following summarizes the main three. These three are based on the 3GPP broader guidelines, which specify the two main categories as:
Stand-alone private network ( Non-Public Network)
Shared private network
In our case, we have subdivided case 2 into further two more cases.
Before we explain the architecture. A word about the legend:
The color here shows whether a function is dedicated to an operator or enterprise. Dual colors ( green and red) show these components are logically shared between the operator's network and enterprise network. The mobile phones shown are the users of data, also called User Equipment (UE)
As already explained in the 5G core architecture, the user plane ( UPF ) and control plane (CP) are distinct components in the 5G core. The CP is usually centralized, while the UPF can be pushed closer to the edge giving rise to use cases for MEC ( Multi-Access Edge Computing).
Therefore we have shown the CP and UPF as separate components here.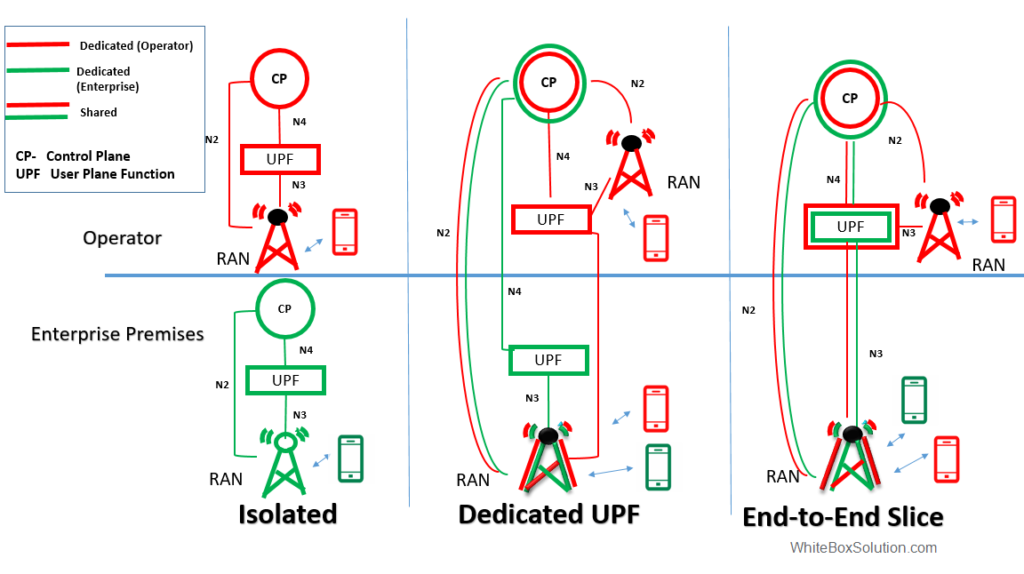 We will use a table to describe the options, making it easier for you to compare.
Private 5G Network Type

Pros

Cons

Option 1: Isolated Networks

The 5G Private Network of an enterprise is entirely independent of the operator's network. The enterprise builds its own network, including radio access network (RAN) and Core, on an unlicensed spectrum completely independent from the public network.

Variant:

The operator can build the 5G private network for the enterprise on its licensed spectrum and manage it for him.

●     Privacy and Security– As the two networks are physically separated, there are no security issues

●     Predictable performance on the data plane- As UPF (user plane) runs closer to the user, giving better latency and throughputs.

●     Less operational issues because of complete isolation

●     Costly in terms of CAPEX and OPEX

●     May need particular technical skillsets, which the enterprise may not have

Option 2: Dedicated UPF

The RAN and control part of the 5GC are logically shared, while the user plane is not shared. The operator installs a dedicated UPF for the enterprise, which is part of an integrated MEC platform.

Variant:

The enterprise may opt for RAN sharing only, taking advantage of the operator's RAN license. Additionally, this option will require the operator to set up a dedicated 5G control plane (CP) within the enterprise premises.

●     Predictable performance as UPF (user plane) runs closer to the user, giving better latency and throughput.

●     Less costly than Option 1

●     RAN & Signaling is still dependent on the operator and thus requires strict SLAs for guaranteed performance on these two components.

Option 3: End-to-End Slice

The operator's and private networks are separate using 5G network slicing. The complete network is logically shared, the RAN, transport, and core. The network is maintained by the operator while the enterprise can enjoy an isolated virtual slice.

Most likely, the operator will build the UPF as part of the edge cloud (MEC)  outside the enterprise but closer to it so it can serve multiple enterprises in the same vicinity.

●     Less costly of all options as there is no need for a dedicated network for the enterprise.

●     Monetization potential for the operator as the same network can be sliced for multiple enterprises.

●     A complete network is sliced and thus requires strict SLAs for guaranteed performance.
 Table: 5G Private Network Architecture with Pros and Cons
So that's it about the different options. The options described are not the only ones but the major ones. Many telcos would do their own variants of the above depending on how much control the enterprise would like to keep and the costs it is ready to bear. This will create new private and hybrid models.
Lanner's white box platform for 5G private networks
5G private network will require strategic placement of UPF. This UPF is usually part of an integrated MEC platform. In addition, the platform should be able to run other workloads in mobile networks like RAN (CU and DU), security, and core functions.
This requires an all-in-one and integrated MEC platform suitable for edge cloud placements that are limited in size and space.
Lanner's white box platform HTCA ( HTCA-6600, HTCA-6400, HTCA-6200 ) is an all-in-one MEC/Edge platform that supports all types of workloads ( UPF, MEC, Security, RAN, etc.). It offers a P4 programmable data plane through one of the supported switch blades based on Intel Tofino. The platforms come in flexible form factors running from 2U to 6U, suitable for compact edge deployments.
Lanner is a leading manufacturer of white box platforms and uCPEs. It provides solutions for various telecom applications like SDN, NFV, SD-WAN, Edge, DCs, and RAN, including its flagship HTCA platforms.
Lanner operates in the US through its subsidiary-Whitebox Solutions (whiteboxsolution.com).
References:
https://www.3gpp.org/news-events/2122-tsn_v_lan
https://www.netmanias.com/en/post/blog/14500/5g-edge-kt-sk-telecom/7-deployment-scenarios-of-private-5g-networks