Your data center infrastructure likely comes from different vendors, which can complicate managing a data center's hardware if no open standards are available.
However, the Redfish standard solves this problem, which enables managing the data center infrastructure (such as server hardware and other misc. DC components) using standard open APIs defined by the DMTF body. Redfish makes remote management of DC very easy.
Redfish version 1.0 came out in 2015. After that, the specification saw continuous updates with new releases added regularly.
With the recent growth of edge data centers, the industry considers that Redfish can bring a lot of value:
Edge DCs usually have large numbers with the DC infrastructure from different vendors. Keeping multiple tools to manage various vendors is both CAPEX and OPEX intensive.
Whereas, Redfish provides a uniform, consistent and easy way to manage such cross-vendor infrastructure making it highly suitable for edge clouds.
If you are a CSP looking for simplicity and cost savings, look for DC infrastructure (such as server hardware) providers that are Redfish compliant.
But what exactly is Redfish? what is the reason for its popularity, especially for edge clouds? Does it only manage servers?
This blog will attempt to answer all those questions in an easy-to-understand way.
What is Redfish?
According to DMTF's website:
"Redfish® is a standard designed to deliver simple and secure management for converged, hybrid IT and the Software Defined Data Center (SDDC). Both human readable and machine capable, Redfish leverages common Internet and web services standards to expose information directly to the modern tool chain."
It uses modern interfaces and schema such as RESTful interface, JSON, and OData to manage diverse IT infrastructure.
DMTF introduced Version 1.0 of the Redfish in August 2015, while the latest version, 2022.1 came in May 2022.
DMTF monitors the health of sensors, power supplies, chassis, fans, and their state. It can reboot different types of hardware, can change BIOS settings, and configure baseboard management controller (BMC) network settings. In addition, it provides comprehensive system and event logs.
DMTF can not only manage/monitor servers but goes beyond:
It can monitor equipment like CCTV cameras or AC (air conditioning) units. Ultimately, Redfish aims to address all of the components in the data center.
Why Redfish? (Benefits of Redfish)
To appreciate Redfish, we need to understand the limitations of its predecessor Intelligent Platform Management Interface (IPMI).
IPMI was first published in 1998, led by Intel. It was the first specification ever to manage server hardware in a standard way and got widespread adoption by almost every vendor. However, with time vendors felt a need for a newer and better specification. IPMI is neither automation-friendly nor API friendly. It is rigid and not extensible. With time many security vulnerabilities associated with IPMI surfaced, raising concerns in the industry.
DMTF, on the other hand, developed Redfish as a purpose-built hardware management tool for modern SDDC (software-defined data center). Redfish uses the latest web standards such as HTTPS and REST through modern toolchains such as JSON and OData. It is highly scalable with an extensible data model and thus API friendly. DMTF aims to develop a cross-vendor interface for maximum interoperability between different hardware components and vendors.
The specification has seen active and continuous updates with many diverse devices being added, such as Edge computing and IoT. Redfish is highly platform agnostics supporting x86, x64, ARM, PPC, MIPS and compatible with all major OS such as Linux, MAC, Windows, etc.
DMTF has also worked on the security aspects making it more robust, supporting two types of authentication methods: HTTPS for basic authentication and session-based authentication, which requires a session to be authenticated. Further, it can support corporate directories like LDAP and Microsoft active directory for credential purposes.
Redfish's importance for the Edge devices
We see a few reasons; Redfish can bring value to the management of Edge cloud infrastructure.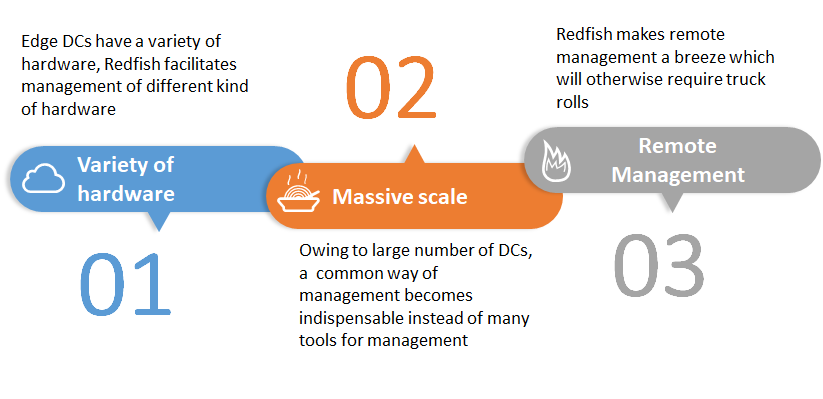 1.    Variety of hardware:
Edge clouds usually have a variety of hardware. Vendors offer innovative edge platforms that provide a mix of CPUs, GPUs, FPGAs, and ASICs to support maximum throughput. They can have different memory and storage hardware. Redfish, highly extensible and hardware agnostic, can help manage these varieties of hardware easily.
2.    Massive scale
The edge data centers can scale from a few to hundreds and thousands of locations depending on the CSP's use cases and needs. Usually, a CSP keeps multiple vendors in the network instead of relying on one. Keeping multiple management tools from various vendors is not scalable in such cases. Redfish can help manage the diverse DC hardware as a single management and monitoring domain bringing down CSP's OPEX.
3.    Remote Management
With many edge data centers, sending a technician to every data center for maintenance and troubleshooting is highly OPEX intensive. Tools such as Redfish can provide a comprehensive remote management solution for diver needs like configuration changes, remote troubleshooting, hardware reset, and firmware updates saving on expensive truck rolls.
Lanner's white box / uCPE platforms support Redfish API.
Lanner's is a leading white box and  uCPE manufacturer for various telecom applications like SD-WAN, SDN, NFV, Edge cloud, Open RAN, and orchestration. It operates in the US through its subsidiary-Whitebox Solutions (whiteboxsolution.com)
Lanner firmly believes in open standards and open platforms for cross-vendor interoperability and standards' growth. Lanner's platforms support Redfish APIs, enabling standard multi-vendor network configurations (avoiding vendor lock-in), scalability, and a seamless management experience.