Retail store chains have always relied on their traditional WAN links to provide secure and fast access to their branch stores. Their applications, services, and data hosted on the headquarters must be accessed fast. And that is what their WAN does.
But eventually, data will grow and devices will multiply. Retail store chains need technology that can connect their branch stores while adapting to massive and intensive-data services and applications.
In the following article, we will dig deep into why retail store chains need SD-WAN and how it will re-shape the entire industry.
The Retail Store Chain Network Challenges
Retail store chains work with distributed networks. They likely have a main office or headquarters with a Data Center and dozens or hundreds of stores distributed across distant geographical locations.
The (Wide Area Network) WAN connects all those branches with the headquarters into a single "wide" network. A WAN can use a variety of connection types such as:
A PPP link such as VPN or Tunneling over the Public Internet.
A Circuit Switching (CS) technology, such as ISDN or Cable.
A Packet Switched (PS) network, such as MPLS or LTE.
Any of these connections should be capable of providing the core services and applications to retail stores, such as inventories, deliveries, purchases, etc.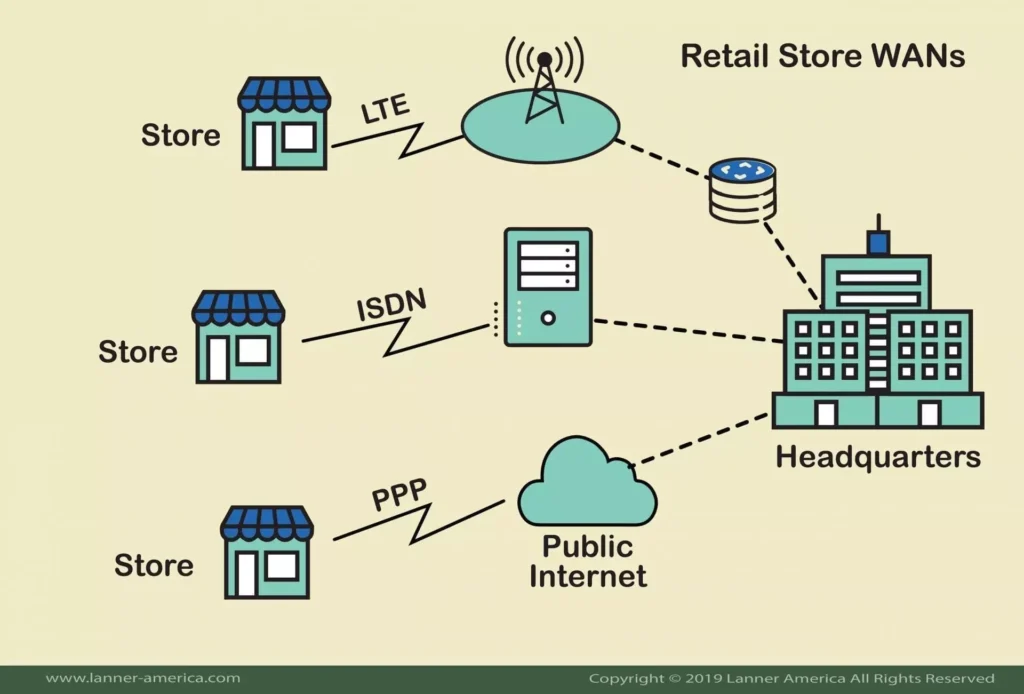 If there is no network — there are no services. It is a risk that retail store chains cannot take.
Today, not only laptops connect to a network, with the Bring-Your-Own-Device (BYOD) policies, anyone can bring a device from home and connect to the network. From smartphones, tablets, smartwatches, and soon enough the whole IoT devices fleet. On top of that, we are not only using email, but large quantities of data, from video conferencing, IoT and Big Data, secured transactions, cloud-backups, and the list goes on and on.
All of these innovations present challenges to traditional WAN connections.
Capacity. The current capacity of networks employing MPLS on their WAN links is starting to affect the quality of service (QoS) and overall performance. WANs must be reliable and stable. A larger capacity for these store chain networks is in high demand.
Security. The BYOD policies have the potential to open up new vulnerabilities in the network. Unpatched equipment and the lack of IoT devices standards at the branch, open up the doors to to Hackers and nasty Malware.
Device Management. Distributed offices within WANs are only getting more complex and difficult to manage. The rise of quantity and diversity of devices connecting to the network is getting out of control. What used to be between 5-10 desktops in the entire store, now is 3-8 devices per user.
This growth in data and devices will likely demand alternative or backhaul solutions to connect back to the main office. As an alternative to WAN, a store chain network could go for a cloud platform or a simple VPN tunnel to provide connectivity to each branch. The problem is that those solutions will never really guarantee QoS, performance, bandwidth, easy management, and a high level of security.
SDN (Software Defined Networks) can improve capacity and ease of management. It can introduce virtualization technology at the WAN, by replacing the traditional branch routers with virtual appliances.
This is where SD-WAN works its magic!
SD-WAN, What It Is and How It Can Help?
SD-WAN will revolutionize how distributed businesses such as retail store chains connect their headquarters to their remote locations.
Traditionally, store chains networks used proprietary hardware for their WAN connections, something that limited their growth. But with SD-WAN you can use generic hardware. The technology separates the network from the control plane and the traffic management from the hardware. So, it increases flexibility and scalability. That means that as long as a branch office has access to a fast Internet or a private cloud, SD-WAN can be easily deployed.
So, what can SD-WAN do?
SD-WAN is a virtualized WAN architecture that allows secure and reliable connection by leveraging any combination of services, from MPLS, broadband Internet, LTE, and now even 5G. It can also combine those services through a Hybrid SD-WAN.
The SD-WAN simplifies and centralizes connectivity through intelligent traffic management across the entire WAN. It connects those multiple branch links with intelligent traffic directing and policy-driven management.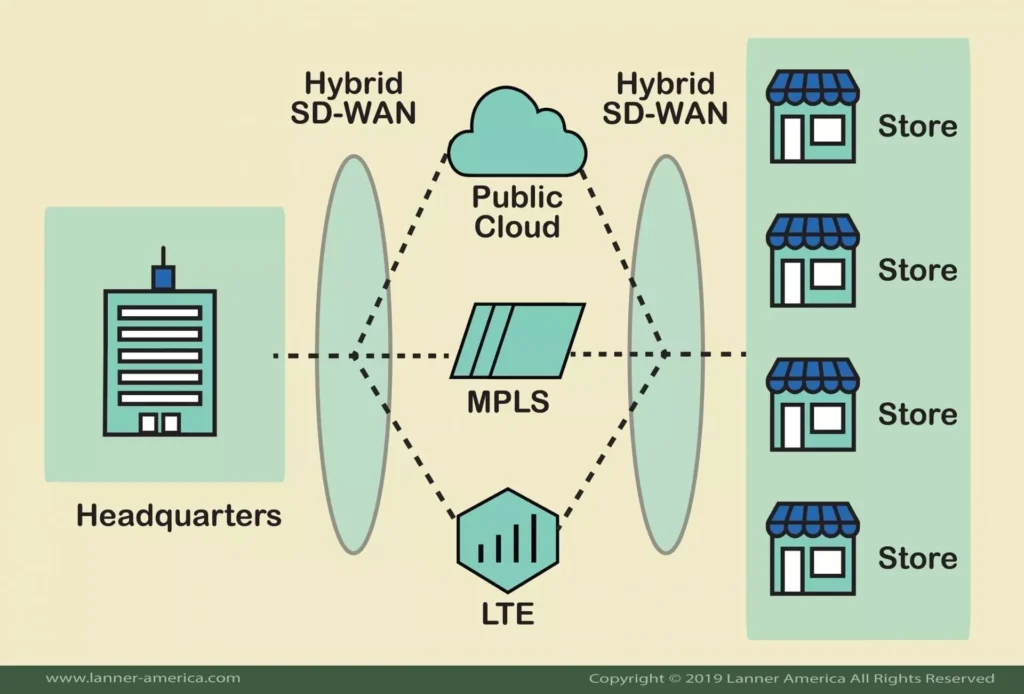 What are SD-WAN's main capabilities?
Manage virtual WAN links by integrating the private MPLS network, public Internet, and cellular networks to a remote location with a single source. The hybrid SD-WAN allows you to have multiple links as load balancing or failover.
Define and control traffic policies from a central location, without needing to configure each equipment. The headquarters can push policies directly to the stores without having to log in to each device.
Modify the bandwidth to adapt certain network services and applications to a single or group of locations. The traffic can be adapted and easily managed.
SD-WAN needs nothing more than a white-box hardware. Lanner provides vCPE/uCPE white-box that have been pre-validated by most popular SD-WAN vendors. For example, the NCA-2510 is a network appliance optimized for vCPE, uCPE, SD-WAN and SD-Security.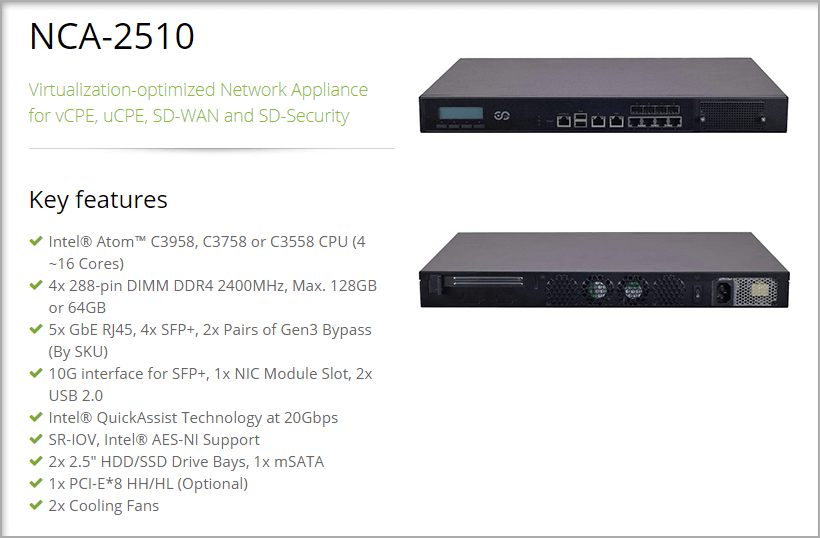 What Opportunities Will SD-WAN Create For The Retail Store Chains?
We already know that SD-WAN will bring countless benefits to the store chain networks. WANs will have faster throughput, lower latency, improved security, centralized management, etc. But what opportunities will it create for the stores? How will it innovate the retail store chain's operations or applications?
SD-WAN's advantages will likely open up new opportunities and doors for trend technologies, such as VR/AR, IoT data, and AI/ML.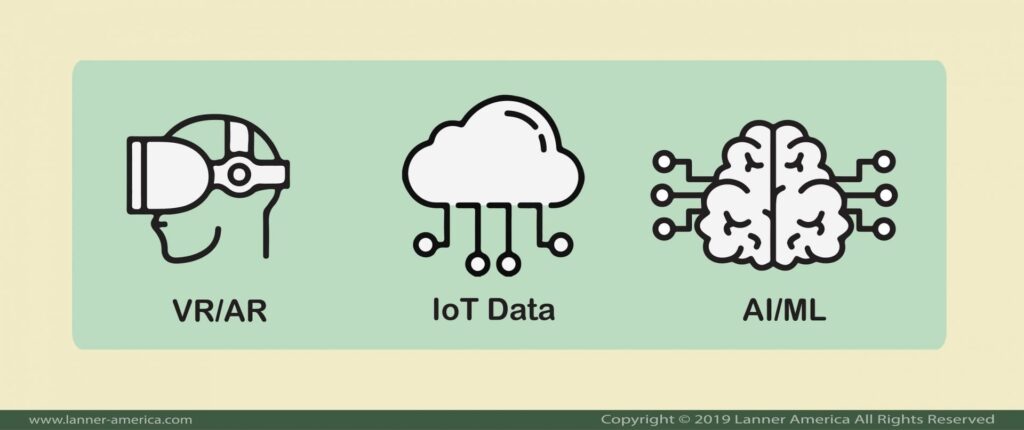 Improving VR/AR
Fashion retailers can benefit from SDN to change the way customers buy for clothes online and in stores through virtual fitting rooms. Customers can virtually try on clothes by using some kind of Virtual Reality and Augmented Reality (VR/AR). But the improved VR/AR will not only open up opportunities for fashion retailers but also for furniture, beauty, cars, etc.
Augmented or virtual shopping will only be possible if branch stores have high-capacity and fast networks. The AR/VR traffic must be protected and shaped to avoid packet loss and jitter.
IoT sensors and device data
Retail stores can now place sensors around the store to help customers navigate the location or get discounts based on their shopping activity. An example of this technology is Beacons, a low-cost IoT device that communicates with the customer's smartphone inside the store through a Bluetooth signal.
More examples are Automated Checkout Systems where stores eliminate cashiers, Smart Shelves, that can help in the inventory process and to avoid in-store thefts, and even roaming robots in stores, like Lowebot, that guide customers to find items in the store and speak different languages.
Introduce Artificial Intelligence and Machine Learning
AI and ML at the retail store chains are striving to make shopping easier and faster for the end-consumer and employee.
Trying to reduce or even eliminate cashiers through AI has been an effort by Amazon. They just opened a fully automated grocery store, called Amazon Go. This store is free of checkout lines and cashiers. You just walk out of the store, like you would in a Metro Station. But AI and ML do not only provide easier and faster shopping, but it can also help in-store marketing, product placement, and to avoid theft, all by monitoring customer's behavior.
AI and ML can also improve stocking and inventorying processes through voice commands at the branch stores. It can help employees communicate throughout an entire store using voice-controlled devices.
The Future for SD-WAN
Undoubtedly, data is growing so fast and coming from many different places. Retail store chains need to be ready to handle data-intensive applications and services while keeping reliable connections to the headquarters.
SD-WANs will change the way retailers connect their branch stores to the headquarters. The WAN of the future will be flexible, secure, responsive, and highly efficient. Some retailers will likely leverage mobile technologies as WAN failover and backups. In fact, some enterprises are already using LTE as SD-WAN failover and soon they will probably do the same with the ultra-low latency 5G technology.
SD-WAN will also open up new opportunities for the retail store chains. VR/AR, IoT deployments, and AI/ML couldn't happen with traditional WANs. Thanks to how SD-WAN decouples hardware from the intelligence and virtualizes the edge, all of these technologies will be possible.