The same that happened to the compute infrastructure is happening to the network. Virtualization and cloud-based services shaped computing, and now they are also changing networking.
Today, networks can be far more dynamic and accessible to everyone. Entire instances of network and security virtual functionalities can be launched with a single click and managed remotely. All of this is possible, thanks to technologies such as SDN and NFV.
Network Functions Virtualization (NFV) decouples the network functions from proprietary hardware, but the technology still needs to run the software somewhere. Appliances such as the Universal Customer Premises Equipment (uCPE) can run virtual network functions on standard OS and a generic white-box. That means you don't need any proprietary hardware and complex integrations.
The uCPE can be used to deploy new services at the customer premises, provision new WAN branch offices in minutes, and more.
Virtualizing the Network Infrastructure
According to a report from IDC, the SDN market generated close to $5.15 billion in 2017. It tripled its growth from 2016. The same predictions team from IDC estimated that the trend for SDN worldwide market would continue to grow. It will be worth more than USD 12 billion in the year 2022.
The physical network will not disappear in a few years. But the market will slowly favor network virtualization overlays and SDN controllers. Having an extensive and complex network dependent on hardware slows down business growth, and hurts innovation.
When launching new network services, businesses often need to update and change the entire racks of hardware. Dealing with equipment provisioning is a task that takes a long time and consumes large sums of money.
Network virtualization removes the hardware from the equation. It separates the software from the hardware, making network functionalities independent from the underlying equipment. A single server can be used for multiple network functions. Imagine routing, switching, firewalling, load balancing, all in a single appliance.
Below is a diagram of the network virtualization architecture.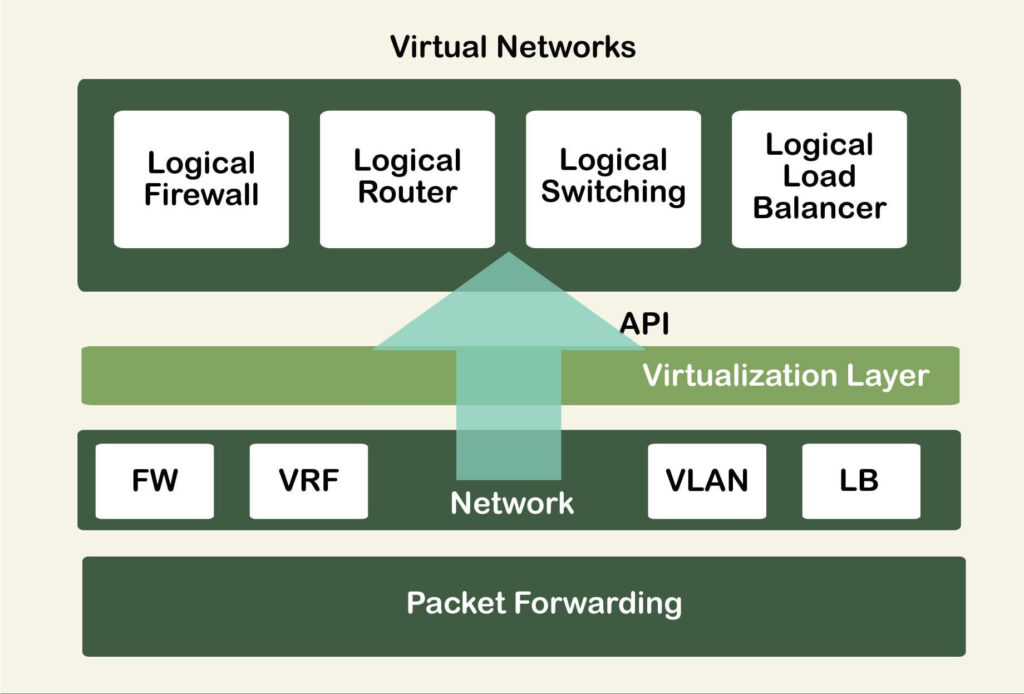 Now it is possible to virtualize entire data centers with models such as the Software-Defined Data Center (SDDC). This technology is capable of delivering a 56% annual reduction in provision and management. Network virtualization has also been proved in cases like SD-WAN deployments, where the provisioning can be reduced from a couple of months to minutes.
According to a report from VMware, virtualizing network infrastructure can dramatically decrease OpEx (Operational Expenditures) and CapEx (Capital Expenditures). For example:
Virtual Firewalls or Firewall-as-a-service can reduce risk and impact in the data center, saving approximately 68% annually in CapEx.
Faster provisioning and management can reduce deployment time exponentially and eliminate human-made errors, saving an average of 70% in OpEx.
Disaster recovery through the cloud at scale can improve recovery times and reduce outages dramatically.
Virtual Network Services: A Business Opportunity
Virtualized Network Functions VNFs and SDN services are already a reality. An example is, SD-WAN, which is already being delivered to customers as a managed service. This service is also referred to as the SD-WAN-as-a-Service and can be delivered through the cloud.
New concepts like Virtualized Networking Services (VNS) are also coming out as a result of network virtualization.
A VNS is a platform that provides dynamic and on-demand networking services. It allows customers to use NFV as a way to deploy and manage these services. The solution can give access to network functions like load balancing, firewalling, intelligent routing, etc. A Virtual Network Services provider can choose from a variety of third-party trusted VNFs vendors, and through partnered SD-WAN controller platforms provide them to their customers.
A VNS platform is comprised of management, control, and data plane. The management plane can help create and provision services, the control plane is where SDN programs the network, and the data plane is run by equipment at the customer premises, the uCPE.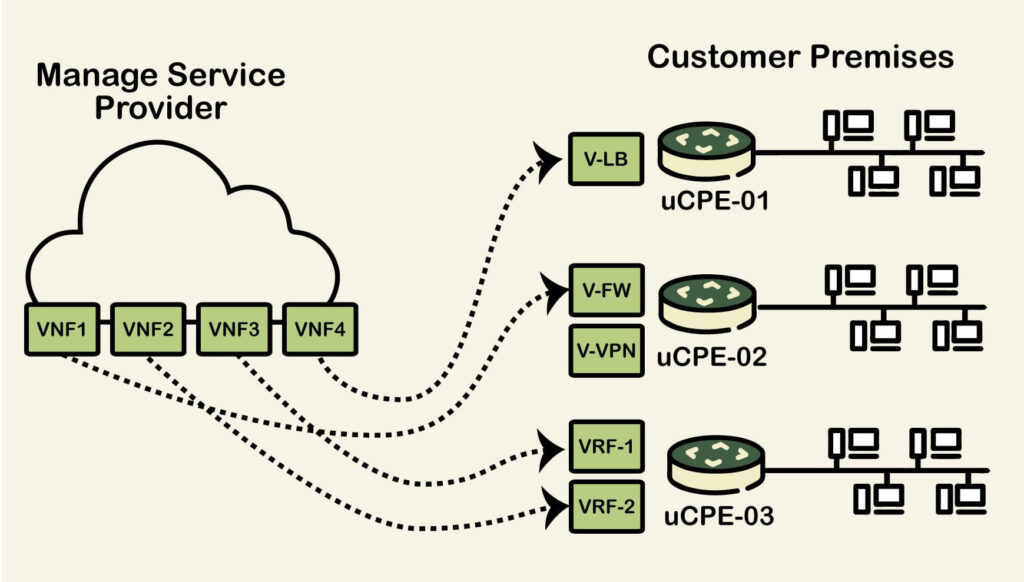 The uCPE: An Essential Element of the VNS
With a VNS platform, end-users can launch networking services from a provider's private cloud through a universal Customer Premises Equipment (uCPE). This piece of hardware is usually deployed in a white-box, which is an open subsystem where the internals can be viewed but not modified. The uCPE is supplied by network equipment manufacturers such as Lanner.
This equipment plays a significant role in network virtualization because it supports multiple Virtual Network Functions (VNFs). These VNFs can be pushed from the provider to the uCPE, as services. Another advantage of using a uCPE is that customers do not need to have any proprietary dedicated hardware. Since hardware is separated from software, customers can use these off-the-shelf (COTS) servers, that are easier to install and much cheaper.
uCPEs will make service delivery easier and more profitable. From a Managed Service Providers (MSP) perspective, multiple virtualized network functions can be easily sent as on-demand services to the equipment on the customer premises. These services include:
SD-WAN
Virtual firewall
Virtual router
Load balancing.
And more.
According to a Gartner report, it is predicted that by 2023, more than 90% of the WAN edge infrastructure from service providers and enterprises will be based on virtualized customer premises equipment (vCPE), uCPE, or SD-WAN-tailored appliances.
From the customer's perspective, they can easily deploy and manage these services from a much lower operational cost. Customers can replace lots of multi-vendor equipment with a generic uCPE box and customize their services according to their needs.
Starting up with a uCPE
It is important to ensure that a uCPE is pre-validated with major VNF or SD-WAN software providers. It is also essential that it is built in open architecture (white-box) to guarantee compatibility.
A uCPE can be deployed as a rackmount appliance or as a desktop. Its hardware must be powerful enough to run multiple VNFs. These appliances should also come with a wide availability of ports, from RJ-45, SFP and SFP+, and support for wireless connectivity like Wi-Fi or LTE.
An example of an uCPE capable of supporting multiple uCPEs is Lanner's NCA-2510. This equipment can be deployed on the customer's premises and receive network services on-demand. It can also be used in branch offices in SD-WAN deployments.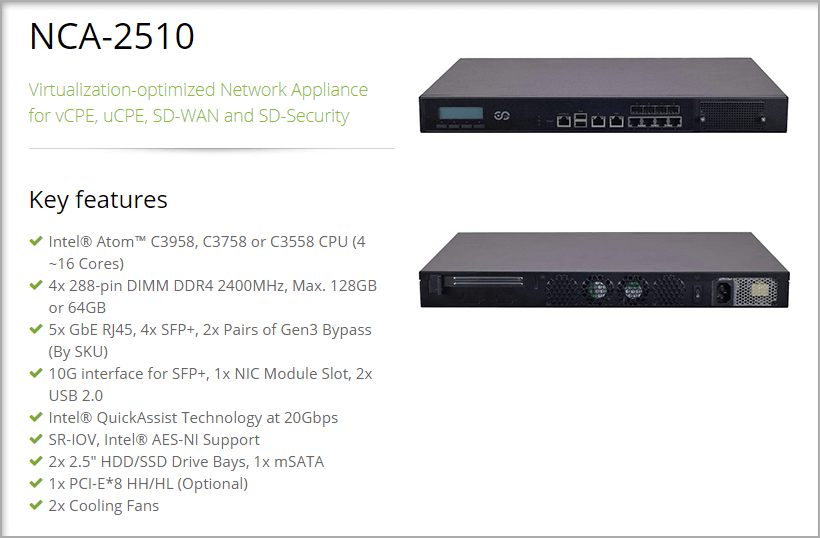 Summary
Current networks have a strong dependency on hardware. Each of their proprietary appliances has strong dependency on hardware. Each of its proprietary appliances has specific network functions. They have a firewall appliance for security, a couple of routers for packet forwarding and path selection, a WAN optimizer to accelerate WAN links, and the list goes on.
Data centers live and breathe for hardware.
But this is slowly changing.
With network virtualization, now it is possible to deploy private cloud networks, entirely new services, and branch sites in just a few minutes. By virtualizing the network, service providers and enterprises can avoid vendor lock-ins. They don't need any proprietary hardware or complex network integrations to run them. Data centers will be dramatically reduced. They will be replaced by multi-functionality boxes like uCPEs, cloud services such as Data Center-as-a-Service, and by Virtual Network Services platforms.
Network virtualization will help provide automated solutions and services, reduce costs & complexities, and add new stable revenue streams.