Network functions virtualization (NFV) and its subsequent virtual network functions (VNFs) can't be developed fast enough for many service providers and business IT organizations. After all, the high level of network automation, commoditized network equipment hardware, and reduced service deployment time/complexity leading to improved network agility are all factors that serve to allow new revenue streams, much like cloud computing has done for cloud service providers.
---
Although the promise of NFV/SDN to evolve networks into autonomous, self-organizing systems is still years away, with the experience gained from developing and testing virtual network solutions, the industry has identified several areas of the network that can be more easily and efficiently virtualized on top of commodity hardware (e.g. industry-standard x86 servers). Extensive development and testing from service providers, network solution vendors, open-source collaborations, projects, and like-minded organizations have created production-ready SDN and NFV solutions for carrier, enterprise, and even residential networking.
Below are the three NFV solutions that have been fully virtualized and deployed on x86 hardware in production networks around the globe:
Virtual mobile core – vEPC/vIMS
Initially, the main focus of service providers (only recently overtaken by the combination of SD-WAN and vCPE), virtualizing the mobile evolved packet core (EPC) and the subsequent IP multimedia subsystem (IMS) functions has been a very important undertaking for wireless communication service providers. Service providers can benefit from improved mobile infrastructure efficiency, reduced network equipment costs, and massively reduced time-to-market with a fully virtualized mobile core. The benefits don't stop there, as the efficient and cost-effective virtual mobile core gives operators all of the tools necessary to deploy in harder-to-reach places (i.e. underdeveloped countries, rural and sparsely populated areas). Aside from the immediate improvements to current mobile networking solutions, the virtual mobile core and underlying infrastructure are paving the way for 5G rollouts through future incremental upgrades.
Virtual consumer-premise equipment – vCPE, uCPE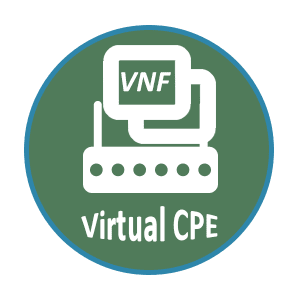 Virtual Consumer Premise equipment is currently one of, if not the most impacting NFV solutions that service providers and businesses can deploy today. By moving away from inflexible hardware relying on applications specific integrated circuits (ASICs), towards fully programmable software-defined CPEs, enterprises, and service providers can expand their capabilities while improving other critical aspects of their networks and services –providing advanced features like multi-tenancy, remote provisioning, orchestration and management, zero-touch provisioning,
The flexibility offered by vCPE creates a much more elastic solution allowing consumer-premise equipment to push heavy workloads onto the SPs network, or push critical workloads to the CPE for reduced latency.  The extensibility offered by VNFs creates a plethora of new potential revenue streams from value-added services like security (e.g. VFW, UTM, IDS/IPS, VPN) and optimization (HSBC, SD-WAN). Though SD-WAN is quickly becoming a crucial component of virtual CPEs due to its access to network technology-agnostic complementary nature.
Software-defined wide area network – SD-WAN
Residential and business gateways are the main focus for communication service providers. Most Internet and communication service providers (ISPs/CSPs) have relied on specialized hardware for their residential gateways and business consumer-premise equipment (CPE) which connects to the service providers' network. Today most NFV solution vendors focused on the vCPE side have an integrated or optional SD-WAN solution to complete the offering (e.ge Versa network SD-Branch).
SD-WAN is a technology that enables the deployment of an overlay network, much like a VPN, but with much more advanced capabilities like QoS, MPLS, load balancing, and link aggregation. All of these functions serve to optimize WAN connectivity and performance, essentially providing a level of network reliability comparable to managed service providers (MSPs). Leading SD-WAN solutions can take WAN connectivity from any kind of source, be it LTE, DSL, fiber, MPLS over fiber, or even terrestrial satellite links. This flexibility opens the door for cost-optimized solutions employing a mixture of commodity internet links and more expensive private leased lines which can provide the required level of network performance (latency, packet loss) for critical business applications while at the same time providing the bandwidth for employee internet access that's necessary for commonly used OTT applications.