Mobile operators are looking into new ways of monetizing their mobile networks in an era of digital transformation and evolution to new 5G use cases. The network edge is one of the key focus areas of the operators. 5G private network is one of the focus areas of operators as a way of monetization. More and more enterprises are looking for a private 5G network to have their own dedicated and secure mobile network.
This blog will look into how uCPE and MEC servers can help future-proof network investment for a mobile operator.
But before that, what is private 5G, and what are its advantages?
What is private 5G?
The 3GPP refers to a private network as a 5G Non-Public Network (NPN). This type of network is used privately by an enterprise. An NPN can be deployed as a Stand-alone Non-Public Network (SNPN) or a Public network integrated NPN (PNI-NPN).
In other words, a private 5G network can be deployed within an enterprise that is entirely independent, or it can be part of the shared network, in which case the operator will use network slicing to offer an enterprise a slice of the network.
Advantages of private 5G for an enterprise and operator
A private 5G network is a win-win for an operator and enterprise.
For an operator, it benefits by
Offering new opportunities to monetize the 5G network.
2, Faster time to market because of wider options like dedicated network and/or use of network slicing
For an enterprise, it has multiple benefits:
Better performance– since the traffic flows through a dedicated network, it will offer better throughputs and QoS
More secure – As traffic is confined within the dedicated network so its security can be managed in a better way
Less OPEX– More OPEX friendly as the network is usually managed by the operator, thus saving on OPEX.
More flexible– The organization can involve in the design of the network, thus allowing more flexible architecture options for an enterprise.
The use of uCPE and MEC server for private 5G network
To under the benefits of uCPE and MEC server in a private 5G network, we need first to understand the architecture of a private 5G network for the industrial use case.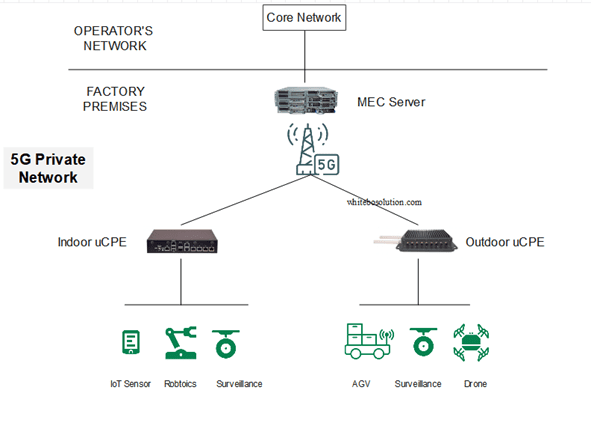 Fig: 5G private network with uCPE and MEC server
While 5G Private architecture can take various forms, the diagram above shows one of the architectures.
In the scenario above, the company needs a private 5G network hosted with a dedicated MEC server at its premises. In contrast, the core network is shared with a specific network slice given by the operator to this customer.
With this kind of topology, if the network is large, the enterprise will need multiple access gateways to collect the data from different Wi-Fi clients like IoT devices, robotics, surveillance system, and drones, etc., in indoor and outdoor environments. This gateway typically uses SD-WAN to backhaul the data to an aggregation site.
In this particular 5G implementation, a MEC server is hosted at the radio site next to the 5G base station. This MEC server provides 5G core UPF functionality, an SD-WAN gateway, and other security services like firewall, IPS, and IDS, all in one platform.
As the architecture shows, there will be a need to have many uCPEs to collect data and a converged platform for the MEC server. Owing to limited space in the MEC DC at the base station site, there will be a need for a compact MEC server that uses less power as well.
The architecture shows that in some areas, there will be a need to have indoor uCPEs, while outdoors will need rugged devices.
With this, let's see the benefits of uCPE and MEC servers.
The benefits of uCPE and MEC server for private 5G
Using uCPE-based SD-WAN device and an open MEC platform based on x86 and COTs hardware has multiple advantages for private 5G
No vendor lock-in- With an open server-based uCPE and MEC server, the software is disaggregated from the hardware, eliminating vendor lock-in from tightly coupled purpose-built hardware and software in traditional CPEs.
One hardware many functions- While closed platforms are usually dedicated to one function, open platforms can install multiple VNFs allowing SD-WAN, 5G UPF, firewall, IPS, IDS, etc. This makes server-based platforms future-proof from an investment point of view, as multiple network services can run on a single platform
For private 5G, an all-in-one MEC server can reduce the number of devices needed at edge DC.
Cost Incentives- CAPEX benefits come because of server-based platforms. Server-based hardware will always win against purpose-built hardware because of the economy of scale associated with the production of servers
A large 5G private 5G network will require many indoor and outdoor access gateways; thus, using uCPE can result in cost benefits.
4, Compact Design- MEC servers have a compact design suitable for the limited space and power needs of edge DCs.
Lanner's uCPEs and MEC servers for Private 5G
Lanner manufactures uCPEs and White Box solutions that can be used for various purposes, including SD-WAN, NFV, SDN, Open RAN, Orchestration, and testing platforms.
Lanner provides a diverse selection of uCPEs and MEC servers suitable for indoor and outdoor used in various form factors.
Lanner operates in the US through its subsidiary Whitebox Solutions.
Featured products
HTCA-E400 (Multi-node Edge Server)
Designed for compact space and limited power
3rd Gen Intel® Xeon Scalable Processor
Intel Tofino P4 Programmable Switch
Support PCIe Card, OCP NIC 3.0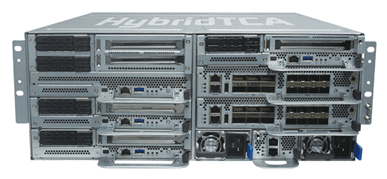 Intel® Atom® C3000 Processor 2-16 Core
6 x GbE & 2 x SFP with SR-IOV
LTE/WIFI ready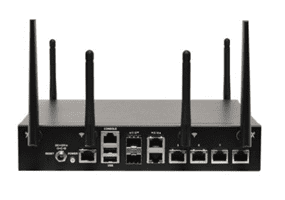 ISD-O370 ( Outdoor uCPE)
IP67 Rugged 5G Edge Network Appliance