The wireless 5G technology is going to make the new ultra-fast, reliable, and ubiquitous networks possible. This high degree of ubiquity and speeds will boost the explosion of new connected IoT (Internet of Things) devices.
Statista, forecasts 1.9 billion mobile 5G subscriptions worldwide in 2024. To support this growth, 5G must provide larger device connectivity and network capacity as compared with the previous generation wireless technologies. A big game-changer for 5G is the parallel emergence of virtualization trends such as SDN, NFV, Distributed Cloud, and Network Slicing.
With these powerful leverage, the entire wireless network infrastructure will need to change from the core to the edge and from proprietary hardware/software components to virtual network functions.
A whole new revolution of telecom network infrastructure!
In the following post, we'll learn more about virtualization at the 5G edge.

How Virtualization Will Create Opportunities For 5G?
The countless benefits promised by 5G will make the mobile operators update their entire infrastructure. By abstracting the network, with NFV and SDN, the operators will no longer be tied to proprietary hardware such as the EPC or RAN. When adding a new service or application to the wireless network, the mobile operators will only add a powerful box with a virtual function, such as Cloud RAN or virtual EPC.
SDN was the first to revolutionize the network by making network control programmable. The network control was given to open software systems rather than proprietary hardware and software. Then came NFV to allow virtualized functions to run on x86 based open platform hardware. Some real case examples are successful deployments of DPI (Deep Packet Inspection), Firewalls, SD-WAN, and vCPE.
NFV has a lot of potential to improve the 5G in various ways, from the architecture to radio access. Below is the cloud RAN architecture for 5G.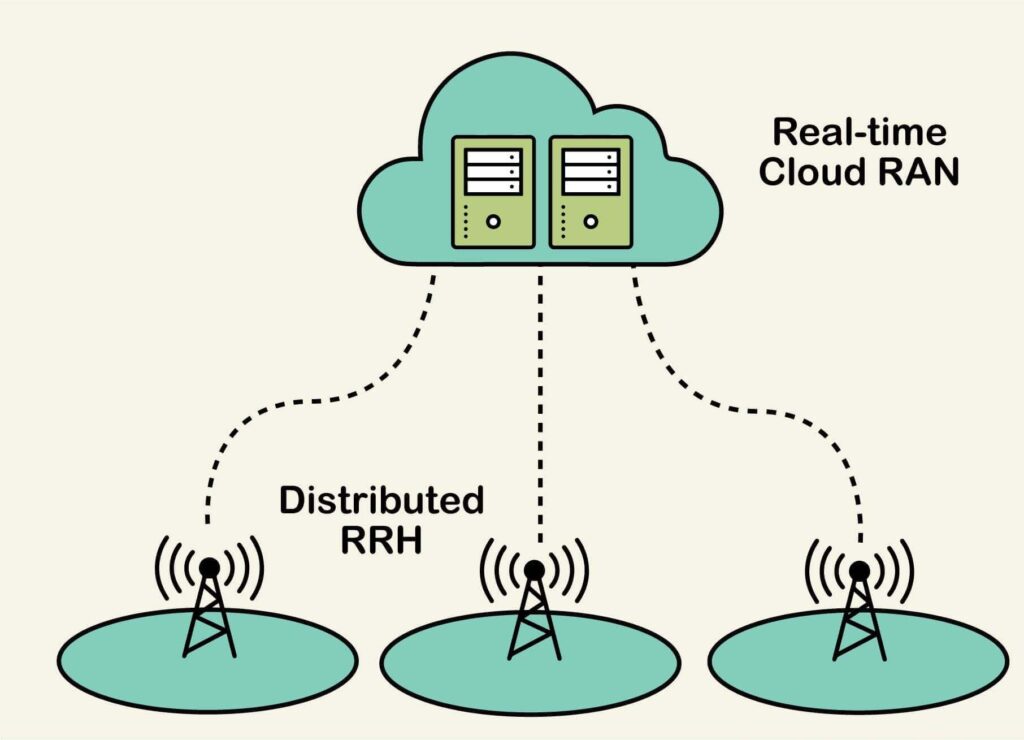 Where Will This Virtualization Take Place?
The virtualization will likely take over most of the edge elements of the 5G network, especially Access, Radio Access Networks (RANs), and the User Equipment (UE). SDN technology will also be implemented at the access, edge, and core network.
How will SDN work at the 5G Core and Access Networks?
The 5G core and access networks will likely use Network Slicing to split one physical infrastructure into many virtual networks. It will logically separate the network so that each slice provides different and unique connectivity under the same infrastructure. For example, one network slice can provide high throughput and ultra-low latency for applications such as self-driving cars or VR/AR.
To allow this kind of flexibility, each slice will be capable of accessing different types of resources whether it is physical or virtual (VNF).
The Core network will also control the vCPEs (virtual Customer Premises Equipment) and push VNFs to the customer's generic hardware. It will also provide management and connectivity to SD-WANs appliances located at the edge.
How will 5G be virtualized at the edge?
Virtualization at the edge will be one of the most important components for 5G. The edge is where the 5G will diverge from the previous mobile technologies. Here, 5G will need to be able to handle a mix of different services and devices.
Network Slicing will also give an extra advantage to the edge networks. The mobile operators will be capable of expanding and diversifying their network services from a single infrastructure with the help from a wide array of network sliced services. They will likely use network slicing at the edge to provide unique services for different cases, such as IoT, self-driving cars, VR/AR, remote health-care, etc.

Network technologies such as the Mobile Edge Computing or Multi-Access Edge Compute, (MEC) will give mobile operators the opportunity to bring high-bandwidth and ultra-low latency access to new applications and devices that are distributed at the edge. The MEC is an evolution of the mobile Base Stations that provide higher performance and cloud-computing capabilities at the edge.
The MEC aims to bring the cloud as close as possible to the end-user, and improve countless applications.
5G Opportunities in Branch Networking with vCPE and SD-WAN
At its full development phase, mobile network operators and Internet providers offering 5G connectivity will likely replace most of their hardware infrastructure for virtual instances. Decentralizing power from the core network and bringing it to the edge will create a new type of infrastructure. A few examples of these are the vCPE (virtual Customer Premises Equipment) and SD-WAN (Software-Defined WAN).
How will 5G play a role in SD-WAN?
You may already have LTE or fiber interconnecting your WAN, and you might even be one step ahead and already using the SD-WAN (Software-Defined WAN) as an element of your WAN strategy.
The SD-WAN can help you improve reliability for your wireless WAN connections. It can be used as a secondary/standby connection or as a part of a load-sharing WAN link. A great advantage of SD-WAN is that you can even connect all your branch offices through different wireless carriers.
The high flexibility of SD-WAN will be possible by virtualizing the 5G networks. the Enterprises will likely start using SD-WAN devices with wireless external connectivity and compatibility to 5G. Some boxes will come with an external USB/modem port for 5G connectivity or have the radio integrated into the box itself.
A few benefits of using SD-WAN over 5G?
Identify anomalies and DDoS attacks.
Prioritize traffic and QoS.
Intelligent Deep Packet Inspection (DPI)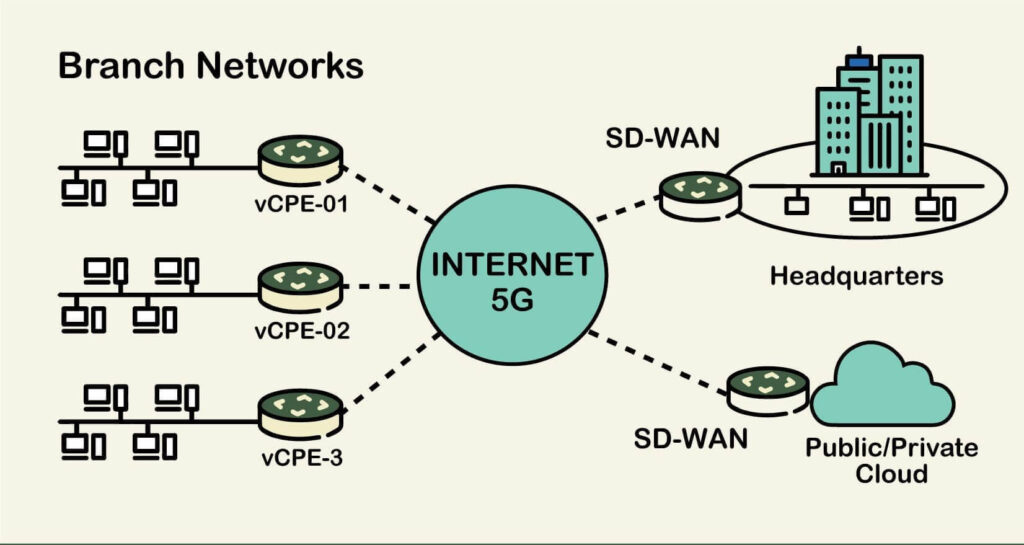 How Will 5G play a role in vCPE?
The vCPE is another key virtual component of the new generation networks that will likely have a positive impact on 5G. The vCPE provides the end-user with Internet service, applications, Unified Communications, etc. It is the underlying intelligence separated from the hardware. The vCPE allows virtual networking functions to be pushed from the core network to the customer's vCPE box, for example, firewall, router, load balancer, VPN, etc.
In the virtual world, the vCPE will be handled by the core network, while the customer will only have a generic box. That means MSPs are able to send different services, and updates to the customer's box without sending any technician to the field.
5G will attain full service-level virtualization with the help from vCPEs. The mobile operators will be able to bring more diversity and power to edge devices such as mobiles, antennas, etc… thanks to vCPEs.
A great example of a network appliance optimized to SD-WAN and uCPE (universal CPE) is the NCR-1510. Mobile service providers will be capable of providing SD-WAN services in remote places with the NCR-1510. It is also optimized for uCPE and Edge Security Gateway.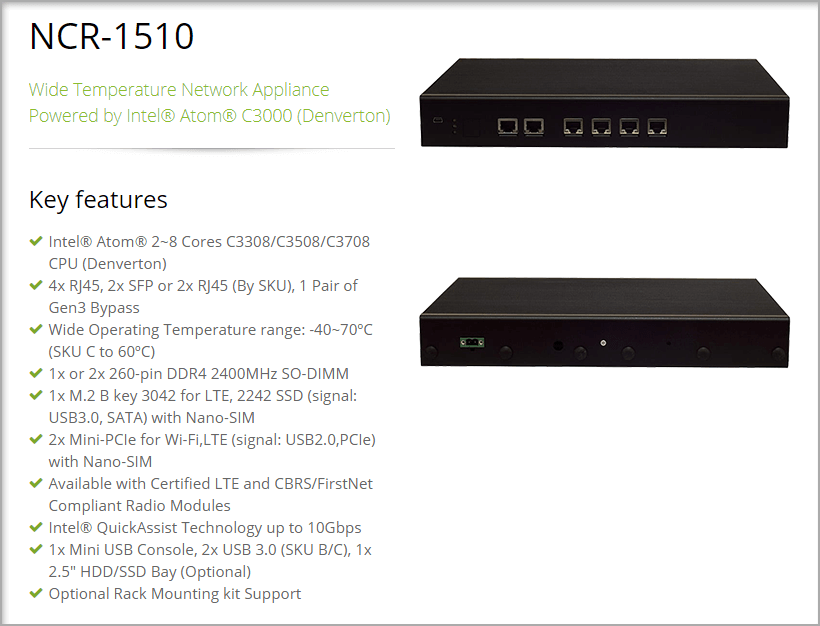 Summary
In order to fully develop and adapt, 5G will need to be capable of managing a never-seen-before mix of service requirements, types of devices, and a large number of connections.
To prepare for this new demand, mobile operators will need to improve their infrastructure, if not change it entirely. But thanks to other growing technology trends such as SDN and VNF, 5G will be one of the first mobile wireless generation technologies to take full advantage of these trends.
5G will do drop the notion of a communications network built on a single mobile infrastructure. With the lower-cost infrastructure and added flexibility of the virtualized instances, 5G will likely improve processing and storage power at the edge.