Global manufacturing industries are embracing digital transformation or industry 4.0 practices to improve productivity and efficiency and maximize profits. Technology forms an integral part of such transformation. Among other technologies, networking stands as a primary candidate for overhaul. Traditional networking falls short of the flexibility the digital transformation requires.
For example, digitalization/industry 4.0 requires flexible  WAN, which traditional connectivity such as MPLS cannot provide. We intend to elaborate more on this point in a bit and argue that SD-WAN can provide a better, flexible, and agile connectivity layer that suits the requirements of digital transformation or Industry 4.0
This blog will discuss why SD-WAN is essential for industrial use cases. How can the emerging use cases of Industry 4.0 benefit from it? And what to look for in an industrial SD-WAN solution
What is Industry 4.0?
The industry has passed through different stages of transformation. The first industrial revolution brought steam machines; the second industrial revolution brought a revolution in communication and transport through telegraph and railway; the third revolution introduced computing power in manufacturing processes, while the current stage, called Industry 4.0, is all about revolutionizing the industry through the use of automation, AI, industrial IoT, and cloud computing.
What is SD-WAN, and how can it help Industry 4.0?
SD-WAN stands for Software Defined networking. It is a new way for WAN connectivity that uses overlay technology to connect multiple sites on any underlay transport like MPLS, internet, ethernet, etc. SD-WAN thus allows transport-agnostic ways to connect sites seamlessly. Beyond connectivity, it can also distribute applications on different routes as per user-defined policies, thus allowing more flexible and dynamic path allocations and improving application performance.
Let's now discuss the benefits of the SD-WAN network, its drivers, and use cases for Industry 4.0
Expediting new sites integration with SD-WAN
Let's face it. Agility is critical to the growth of industries. They are expanding, closing, or relocating constantly.
Adding new sites to an existing network is not an easy task. The first challenge comes with the availability of WAN connections like MPLS to connect a new site to the corporate DC. Service providers may take weeks or months to provide MPLS to the new locations. This can hamper agility badly and slow down the expansion of new sites.
The industries do not need to wait for the MPLS to connect, thanks to SD-WAN. By using a secure network connection using the internet,  a new site can be added in a matter of hours or days.
But that is not enough; even if MPLS  is available, there are a couple of more challenges.
First of all, connecting a new site requires an MPLS router and other security appliances, such as a firewall and IPS/IDS, to ensure the company's security compliance. On the downside, additional time and CAPEX are needed to procure and configure the additional devices.
Secondly, provisioning MPLS routers can take longer time because of manual processes of configuration, which can delay the integration of a new site.
SD-WAN can help address both of these challenges.
First, by having a universal CPE at the customer site, the SD-WAN application as well as other applications can be run, such as firewall, IPS, and IDS, through device virtualization. Running all apps on the same device means faster deployment and integration of a new site and CAPEX savings.
The second challenge of delays because of manual configurations is solved by a much better process of CPE deployment through the so-called Zero Touch Provisioning ( ZTP). ZTP helps provision a router quickly and automatically without any manual configuration. This greatly expedites adding new sites very fast.
Cloud acceleration with SD-WAN
Digital Transformation and the move to Industry 4.0 brings another challenge-the de-centralization of services because of cloudification. Whereas earlier, the services were hosted in selected data centers of the company, which required branches to communicate in a point-to-point way with the DCs. However, this is not the case any longer. Services are far more dispersed- they are everywhere in SaaS, public, and private clouds. In short, cloud applications are everywhere.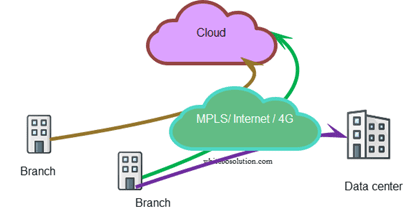 Let's use the example of Industrial IoT (IIoT) devices to understand this "dispersed communication. IIoT devices must communicate with the IIoT services hosted remotely in private or public clouds. Earlier, these IIoT services were hosted in corporate DCs only.  Sending the data directly to remote clouds raises security questions.
Thanks to secure connectivity enabled by SD-WAN, the IIoT devices can send data directly to the clouds, which is impossible with MPLS.
With the traditional approach, data must first travel to the corporate HQ, where the traffic passes through different security functions such as firewall, IPS, IDS, etc.
Secure SD-WAN
IIoT devices have brought efficiency and agility but here is a challenge when using IIoT devices:
IIoT devices are prone to security attacks as generally, these devices do not run security agents. Also, they lack an authentication system which poses further security risks. At the same time,  IIoT devices are mission-critical devices, as any compromise to them can lead to operational disaster.
Thanks to the security provided by SD-WAN, such kind of threats can be thwarted easily.
There are two ways in which SD-WAN can help with network security.
Running security VNFs on-site on SD-WAN CPE
Using a uCPE approach, SD-WAN CPE can also be configured with security virtual network functions (VNFs) such as firewall, IPS, and IDS. This is called service chaining of functions.
All this without running physical functions and purpose-built hardware such as firewall, IPS, and IDS.
Using SASE approach
SASE stands for secure access service edge. It is a new approach to security where security is provided as a service through the cloud.  This approach needs a thin CPE at the branch without running any security functions. Then using SD-WAN, traffic is sent to the nearest security PoP or SASE edge; at the SASE edge, the traffic passes through different security functions such as firewall, IDS, and IPS before diverting the traffic to the final destination.
Now that we know what the benefits of Industrial SD-WAN are let's see what kind of features to look for in an industrial SD-WAN.
What to look for in an industrial SD-WAN CPE?
Now let's look into some of the features required in an SD-WAN CPE.
Support of multi-WAN
While any SD-WAN CPE will support multi-WAN options, we do see some solutions that are limited to this kind of option. It is not unusual to find solutions that only support wireless options but no wireline support.  Without the option to use a wireline option such as MPLS, the device's functionality may be seriously limited when it is required to provide a reliable WAN connection back to the corporate DC.

2.  Ruggedization
is an essential requirement for CPEs used outside harsh industrial environments. The CPE should support a wide range of environmental endurance.  For example, CPEs used in outdoor environments should be dustproof and waterproof per IP67 standards and MIL-STD-810G anti-vibration and anti-shock compliant.
3. Support of WiFI-6
Wi-Fi access in industrial and manufacturing settings is becoming more common, and Wi-Fi 6 is the latest generation of Wi-Fi that provides higher speed and more reliable access to industrial Wi-Fi clients; with Wi-FI 6 becoming more widespread, It is advisable to have an SD-WAN CPE that support of Wi-Fi 6.
 4. uCPE-based platform
An SD-WAN platform based on the uCPE platform can enable hardware disaggregation from the software. This eliminates vendor locker-in and provides more options to the end user to choose its hardware or software vendor. Not only this, but beyond running SD-WAN  VNF on the platform, the user can run other VNFs, such as security VNFs (firewall, IPS, and IDS), thus maximizing the investment of the user.
About Lanner's uCPEs and White Box solutions.
Lanner is a leading manufacturer of uCPEs and White Box solutions covering various use cases like NFV, SDN, Open RAN, Orchestration, and testing platforms. In addition, Lanner provides a variety of SD-WAN solutions for industrial use cases both indoor as well as outdoor.
Lanner operates in the US through its subsidiary Whitebox Solutions.
Featured products
Best suited for indoor use cases
Intel® Atom® C3000 Processor 2-16 Core
6 x GbE & 2 x SFP with SR-IOV
LTE/WIFI ready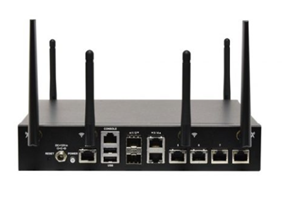 NCR-1510
Wide Temperature Network Appliance Powered by Intel® Atom® C3000 (Denverton)




ISD-O370
IP67 Rugged 5G Edge Network Appliance for outdoor idustrial use case