In a world driven by visual content, video encoding plays an indispensable role in our daily lives. Whether it's streaming Netflix shows, playing online games, or watching live sports events, the quality and speed of video delivery are of paramount importance. One technology at the forefront of this revolution is High Efficiency Video Coding (HEVC), commonly known as H.265 or MPEG Part 2. This article delves into how a North American video transcoding solution provider partnered with Lanner to build a state-of-the-art video transcoder. This platform not only leverages the benefits of HEVC but also incorporates scalability and high-performance features.
The HEVC Advantage
Firstly, it's essential to understand why HEVC is crucial in today's digital landscape. Designed to succeed the widely-adopted H.264 standards, HEVC brings improved coding efficiency and supports video resolutions up to 8K UHD. These advantages are particularly useful for IPTV and OTT platforms that continuously strive for better user experiences and more efficient broadcasting services.
Defining the Requirements
To bring this technology to its full potential, the solution provider set forth several essential features:
GPU-assisted Hardware Transcoding
Modern video transcoding requires heavy computing, often putting a strain on the CPU. By using GPU-accelerated transcoding, the new system offloads this burden from the CPU. This results in heightened performance, especially in high bitrate encoding and decoding scenarios.
24/7 High Availability
The insatiable demand for video content has led to a 24/7 consumption cycle. Therefore, high availability is non-negotiable. This is achieved through redundant power supply systems and hot-swappable fans, ensuring consistent uptimes and quality of service.
Scalable Design for Media-over-IP Conversion
As more people consume video content, the need for bandwidth also rises. To accommodate these demands, the solution incorporates scalable design features, like NIC module slots for copper or fiber optical I/O and other media interfaces.
High Performance
For applications like IPTV and OTT, high bandwidth and processing speed are critical. Therefore, the solution features a multi-core CPU along with dedicated hardware to accelerate video processing.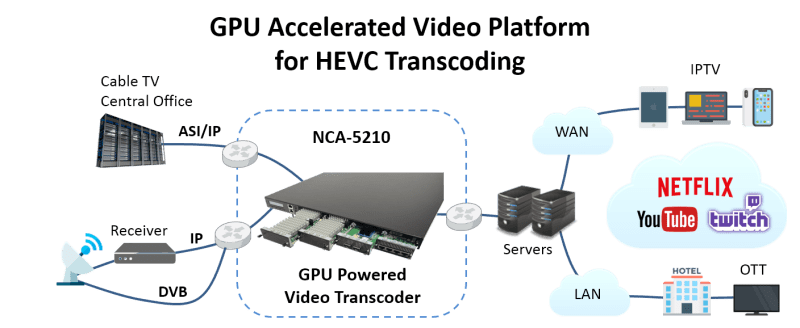 The Collaborative Solution
In partnership with Lanner, the solution provider employed the L-5210, a 1U network security system powered by 7th generation Intel® Core™ processors. This system offers not only optimal compute performance but also rich LAN connectivity and scalable NIC module slots for bandwidth expansions.
To ensure GPU hardware transcoding capabilities, the L-5210 is complemented by the NCS2-NV02 module. This is a power-efficient video transcoding module fueled by dual NVIDIA Jetson® TX2 Processors. The module optimizes video transcoding for high-volume video delivery, such as 10-bit HEVC video, and accelerates video-intensive applications.
Conclusion
The evolution of video streaming technology shows no signs of slowing down. The partnership between the North American video transcoding solution provider and Lanner marks a milestone in how modern problems require modern solutions. With the blend of HEVC technology, GPU-assisted hardware transcoding, high availability, scalability, and performance, the developed solution sets a new standard in video content delivery and streaming.
By embracing these advancements, content providers can not only meet but exceed the ever-increasing demands for better video quality and user experience, while simultaneously reducing capital and operational costs.
So, as we stream our favorite shows, watch live sports, or video call our loved ones, behind the scenes, innovations like these are what make it all possible, with impeccable quality and efficiency.