In the rapidly evolving digital landscape, a robust and secure network infrastructure has become a linchpin for businesses aiming to enhance operational efficiency and customer experience. Especially in industries like pharmacy store chains, where seamless communication, real-time inventory management, and secure data transfer are critical, a Software-Defined Wide Area Network (SD-WAN) solution can be a game-changer.
The Challenges in Pharmacy Store Operations
Pharmacy chains are increasingly offering a broader range of healthcare services, which presents unique challenges. These businesses have to manage multiple locations with large data footprints and continually changing product and service lines. SD-WAN implementation offers a tool for corporate technology teams to gain valuable insights into the performance of each store location. By doing so, they can proactively and securely manage bandwidth and data flow in alignment with specific business goals.
Requirements for an Effective SD-WAN Solution
Implementing a centralized, real-time SD-WAN solution can provide each store with more excellent visibility and control over its growth-driving applications. Let's take the example of a Middle Eastern pharmacy chain that aimed to overhaul its network for better performance, reliable access, and reduced network costs. Lanner partnered with a leading SD-WAN software provider and regional system integrator to create a uCPE platform meeting the following requirements and benefits:
Powerful Performance
The appliance should come equipped with a multi-core processor architecture and expansion modules. These features increase its performance, allowing it to run concurrent services in a small form factor.
Multi-Tenancy Structure
With a multi-tenant design, the company's headquarters can separate and secure each branch site's network. This separation offers secure, optimized connectivity coupled with centralized, visible management.
Multi-WAN Support Connectivity
The appliance must support diverse communication options, including MPLS, Ethernet, internet, broadband, and 4G/5G. By doing this, it can seamlessly integrate public and private transport and intelligently route traffic to utilize bandwidth effectively.
Robust Data Security
Given that pharmacy chains handle sensitive patient information, data security is paramount. SD-WAN solutions come with enhanced security features, such as onboard TPM for securing crypto-processing and tamper resistance at the hardware level. These measures ensure the secure and confidential transmission of data between branches and data centers.
The Multifaceted Benefits
Implementing an SD-WAN solution in a pharmacy store chain offers a plethora of benefits. These include:
Streamlined communication and collaboration
Optimized bandwidth utilization
Enhanced security measures
By leveraging the power of software-defined networking, pharmacy chains can significantly improve operational efficiency, reduce costs, and ensure seamless customer experiences across all locations. In this digital age, adopting SD-WAN technology is no longer optional but a necessity for businesses to remain competitive, efficient, and secure.
Hardware Solutions: The L-1515 and the L-1516
The L-1515, a desktop network appliance powered by Intel® Atom® C3000 (codenamed Denverton), offers robust performance and features Intel's QuickAssist Technology. It brings to the table cryptographic acceleration, multi-WAN architecture, and commercial-grade LAN functions in a small form factor.
On the other hand, the L-1516, also a desktop network appliance powered by Intel® Atom® C3000, is compatible with mmWave 5G, Sub-6GHz 5G, and Wi-Fi 6 (both 2.4G and 5G compatible). Supercharged with Intel's QuickAssist Technology and Intel® AES-NI, the L-1516 is well-equipped with a multitude of network communication features and configurations suitable for edge computing and secure SD-WAN.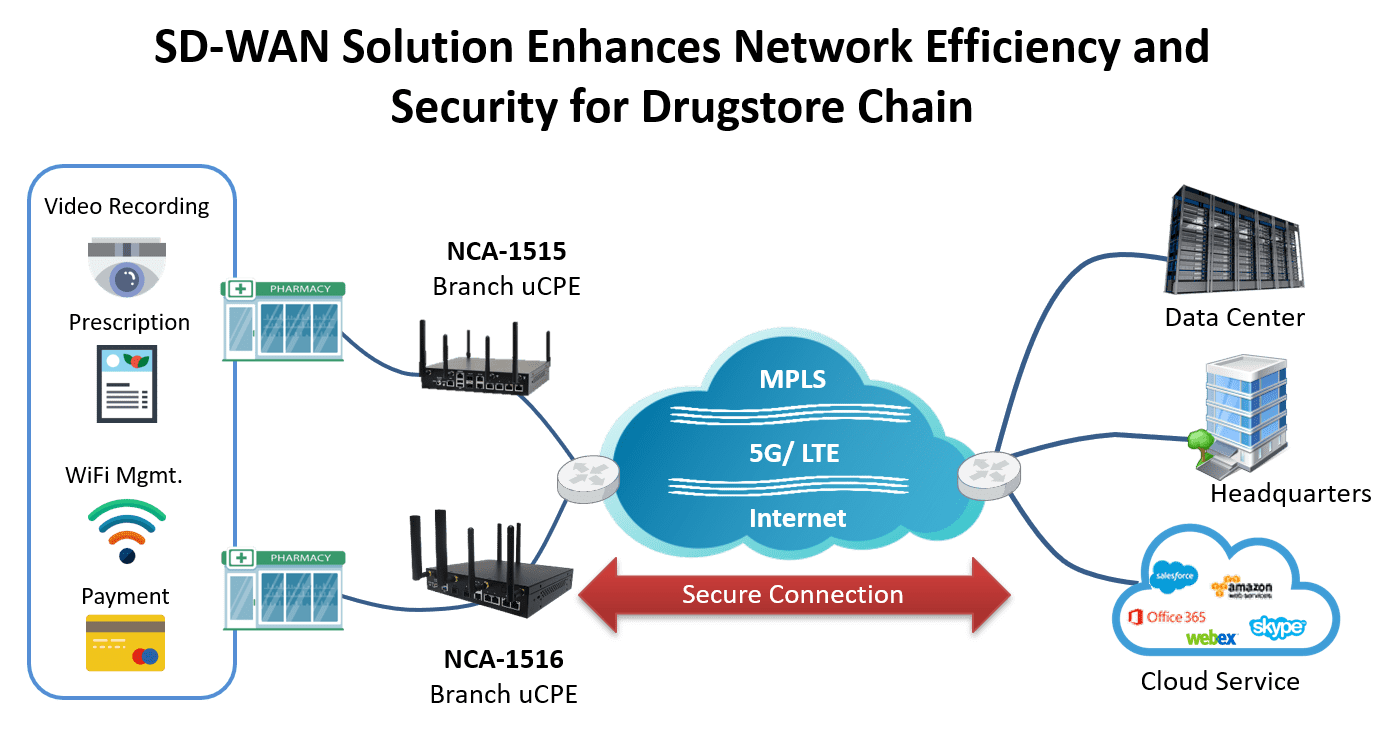 Conclusion
Pharmacy store chains require sophisticated networking solutions to manage the complexities inherent in their operational structure. SD-WAN technology, supported by high-performance hardware solutions like the L-1515 and L-1516, can deliver this much-needed robustness and security. By adopting these advanced solutions, pharmacy chains can take a giant leap toward improved efficiency, cost-effectiveness, and customer satisfaction.
Ready to upgrade your pharmacy store chain's network infrastructure? Don't wait any longer to benefit from the unparalleled advantages of SD-WAN technology. Contact us today to discover how our hardware solutions, like the L-1515 and L-1516, can redefine your pharmacy operations.